Mariinsky Orchestra performs "Zarathustra Spitama" with conductor Ali Rahbari
October 2, 2022 - 18:4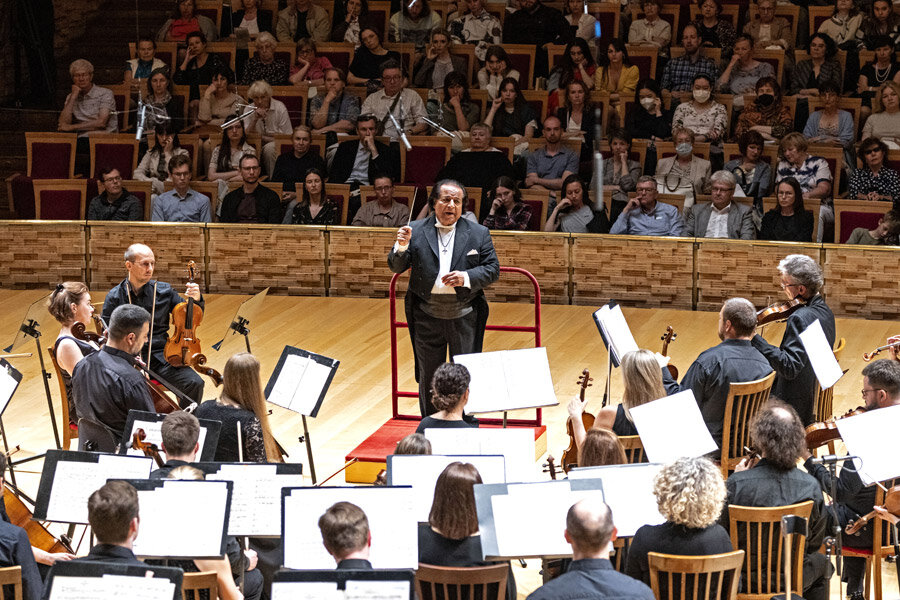 TEHRAN – Iranian maestro Ali (Alexander) Rahbari conducted the Mariinsky Orchestra performing his symphonic poem "Zarathustra Spitama" in a concert last Thursday at the Mariinsky Theatre in Saint Petersburg, Russia.
It was part of a repertoire, which also comprised pieces from Richard Strauss, Antonin Dvorak and several other renowned composers, the Persian service of ISNA reported on Saturday.
Earlier on March 4, the Zagreb Philharmonic Orchestra performed the symphonic poem under the baton of Rahbari at the Vatroslav Lisinski Concert Hall in Zagreb to celebrate 30 years of diplomatic relations between Iran and Croatia.
During the entirely Persian concert, Iranian vocalist Reza Fekri sang a tenor solo accompanied by the Ivan Filipovic Chamber Choir.
"Zarathustra Spitama" was previously performed by the Zagreb Philharmonic Orchestra on October 23, 2020 to celebrate its 150th anniversary.
In a statement for the concert, Rahbari referred to "Also Sprach Zarathustra", a tone poem by Richard Strauss, composed in 1896 and inspired by Friedrich Nietzsche's philosophical 1883–1885 novel, "Thus Spoke Zarathustra", and said, "Regarding the two greats, Nietzsche and Strauss, I did not dare to compose music inspired by the words of Zarathustra until in 2018.
"Mr. Barbad Bayat encouraged me to deal with the words of the great Zarathustra, which ultimately spawned this symphony inspired by Persian music, and after much effort and thorough research, I finally composed an exceptional and extremely melodious symphonic poem about Zarathustra for tenor, choir and symphony orchestra.
"Spitama is actually the surname of a Zoroastrian family. After finishing the song, I decided to present it to the Croatian people who boast of their Persian origins. My wife, with whom I have four children, is also a Croat and they were all delighted with my decision."
Rahbari was appointed by the Artistic and General Director of the Mariinsky Theatre, Valery Gergiev, in July to conduct 10 performances, the first of which was done on July 14.
He was one of the few conductors in the world to break the international sanctions imposed on Russia over the invasion of Ukraine.
As chief conductor of the Munich Philharmonic and a supporter of Putin, Gergiev was already fired due to his refusal to denounce Putin's decision to invade Ukraine.
Following his appointment, Rahbari said, "I am strongly convinced that I am doing the right thing."
"I go to Russia with pleasure and the greatest respect for Valery Gergiev, and I hope that others will follow," he added.
"The invitation of maestro Gergiev means a lot to me. As a professional, especially an opera conductor, I know that Gergiev is a unique, fantastic conductor. People can love or hate him, but he deserves great respect. If I compare him to politicians, I can't see a single one being in the same league as Gergiev regarding merits and achievements. And, one should not forget, Gergiev was already Gergiev, one of the greatest artists of our time, long before many of the political leaders of today even appeared on the scene."
Photo: This file photo taken on July 14, 2022 shows Ali Rahbari conducting the Mariinsky Orchestra in a concert at Saint Petersburg's concert hall in Russia. (MT/Natasha Razina)
MMS/YAW