Iran, South Africa stress holding joint economic committee meeting in near future
October 5, 2022 - 17:11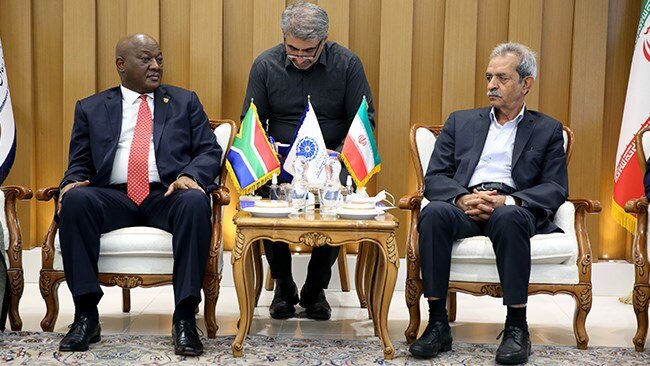 TEHRAN- In a meeting between the head of Iran Chamber of Commerce, Industries, Mines and Agriculture (ICCIMA) and the South African ambassador in Tehran, it was pointed out that the meeting of the two countries' joint economic committee will be held in the near future, and it was emphasized on planning for the optimal use of the opportunity of this meeting.
In his meeting with the South African envoy, ICCIMA Head Gholam-Hossein Shafeie mentioned the implementation of past agreements between Iran and South Africa as very significant.
While referring to the geographical conditions of South Africa and its position in the region, he said: "There is no doubt that the presence of businessmen and investors in South Africa can make available a significant market from the African continent. In the meantime, considering the proper political relations between Iran and this country, we should try to expand the level of economic relations. Unfortunately, trade relations are not in a defensible condition at the moment."
South African Ambassador in Tehran Vika Mazwi Khumalo, for his part, mentioned the planning for the holding of the two countries' joint economic committee meeting and said this meeting will be held after the visit of the president of Iran to South Africa.
He emphasized the agreements made between the two countries, which amount to 23 cases and a significant number of which have not yet been implemented, and said that the made agreements should be taken into account and implemented as soon as possible.
These agreements are the wishes and interests of the two countries for the development of relations between them, so they should be used as criteria to expand relations in the economic dimension, the envoy reiterated.
MA/MA
Photo: ICCIMA Head Gholam-Hossein Shafeie (R) and South African Ambassador in Tehran Vika Mazwi Khumalo