Raisi lauds the Basij's self-sacrifices for public security
November 27, 2022 - 9:41
President makes surprise visit to Tehran Fatehin brigade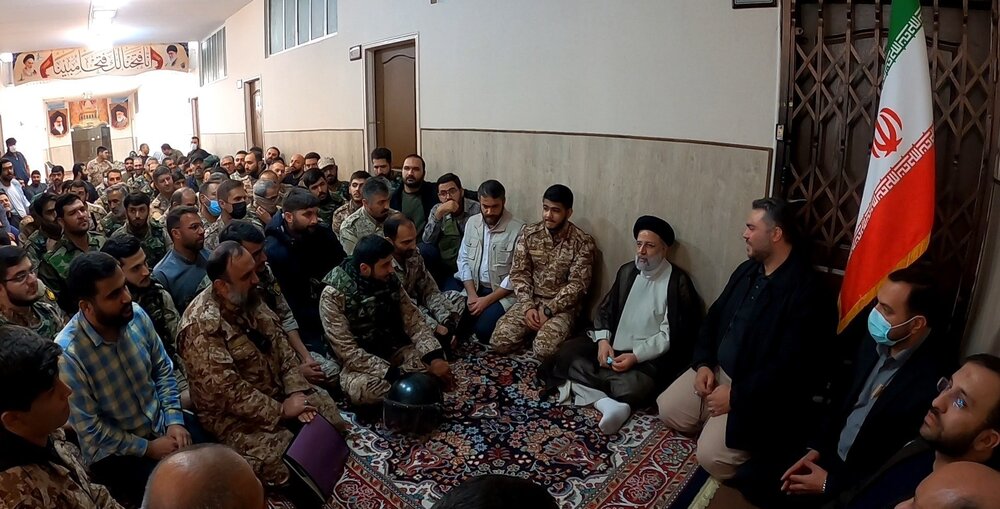 TEHRAN – Concurrent with Basij Week, President Ebrahim Raisi made a surprise visit to the special Tehran Fatehin brigade on Friday.
The president pointed to the unrest in certain cities in Iran that erupted around mid-September, saying the Basij has been a source of honor in "all areas and shined splendidly in facing rioters and disruptors of people's security."
Raisi also wished success for them in all areas.
Praising the performance of the special brigade since the unrest began, the president said, "You preferred the security of others over your own affairs and this move is really praiseworthy."
The president added, "Today protecting the Islamic system stands above everything… and that is why efforts in this path is extremely important."
The enemies have so far hatched different plots against the Islamic Revolution to prevent the "export of the Revolution and Basiji spirit" but the message of the Islamic Revolution has passed the national borders and Iran has turned into an example for other nations, including regional countries.
Pointing to the examples of the "export of Islamic Revolution and Basiji spirit," the president said the Yemeni have been under the toughest blockades for seven years but they have resisted against the Saudi-led coalition.
He also cited the resistance of Palestinians against the Zionist regime, saying they were fighting the occupiers with "stone" but now they have found access to missiles.