Tehran, Moscow stress accelerating INSTC development
January 18, 2023 - 14:36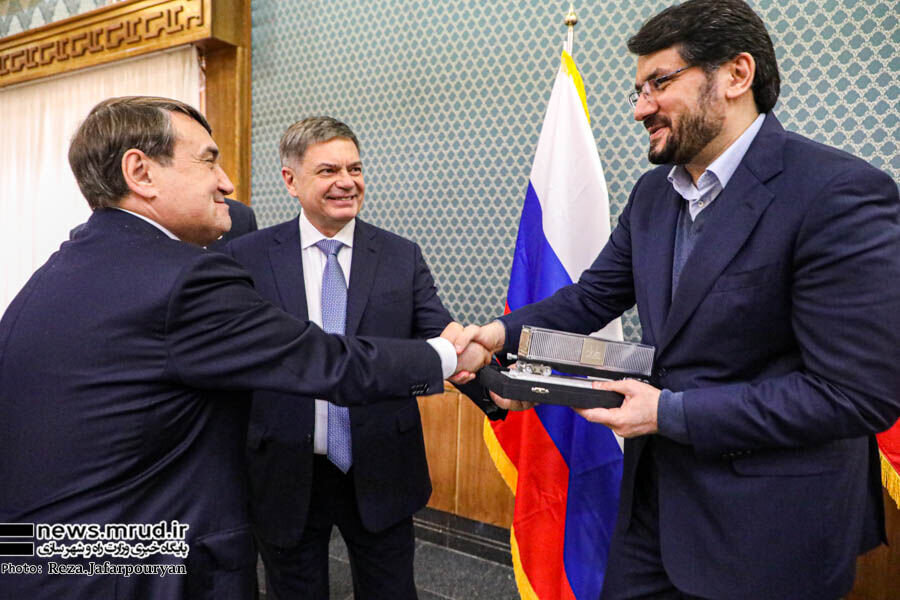 TEHRAN – Iranian Transport and Urban Development Minister Mehrdad Bazrpash in a Tuesday meeting with the Russian president's special envoy Igor Levitin reviewed the progress in railway cooperation between the two countries and stressed accelerating the development of the International North South Transport Corridor (INSTC).
Bazrpash and Levitin also talked about Iran's railway projects that Russia is already participating in and explored ways of developing cooperation even further, the portal of Iran's Transport and Urban Development Ministry reported.
The meeting was also attended by Deputy Transport Minister Shahriar Afandizadeh and Head of the Islamic Republic of Iran Railway (known as RAI) Seyyed Miad Salehi.
Iran and Russia have been cooperating in various transportation projects as both countries are taking serious steps for neutralizing the impacts of the U.S. sanctions.
The INSTC has been the main focus of the collaborations between Tehran and Moscow and the Russian side has been proposing to fund various railway projects along the mentioned route.
Earlier this month, Tehran and Moscow held negotiations on completing the Rasht-Astara railway project which is a main railroad along the INSTC.
Iran has presented its proposed memorandum with 16 articles to determine how Russia will participate and invest in the Rasht-Astara railway project, Afandizadeh said on January 9.
According to the official, the Russian government is interested in participating in the completion of the Rasht-Astara railway by providing financial assistance.
In this regard, a bilateral memorandum between Iran and Russia has been proposed and a tripartite memorandum has been concluded between Iran, Russia, and Azerbaijan, which follows the joint statement signed by the transport ministers of the three countries, according to Afandizadeh.
Although Iran has held negotiations with Russia as well as Azerbaijan in order to participate in the completion of the Rasht-Astara railway, the country will complete the project whether Russia participates in it or not, he added.
Elsewhere in his remarks, Afandizadeh added that in the 13th Iran-Russia Joint Economic Committee meeting, an understanding was reached regarding the transfer of 10 million tons of goods until 2023. The three countries of Iran, Russia, and Azerbaijan also agreed on transferring 15 million tons of goods as well.
The International North–South Transport Corridor is a 7,200-km-long multi-mode network of ship, rail, and road routes for moving freight between Iran, India, Azerbaijan, Russia, Central Asia, and Europe.
EF/MA
Photo: Iranian Transport and Urban Development Minister Mehrdad Bazrpash (R) shakes hand with Russian president's special envoy Igor Levitin in Tehran on Tuesday