Fitur 2023: Persepolis, Hafezieh main themes reflected by Iran pavilion
January 23, 2023 - 19:30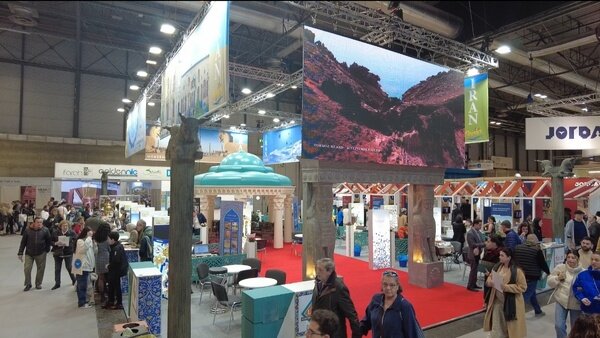 TEHRAN – Iran's pavilion at Fitur 2023 installed mockups of the UNESCO-registered Persepolis and Hafezieh, where illustrious Persian poet Hafez is laid to rest, as its main themes during the five-day event that came to an end on January 22 in Madrid.
Covering 300 square meters, the pavilion staged cultural evenings, B2B meetings, folk music performances, live crafts and calligraphy workshops, souvenirs, and handicraft exhibits among the programs to promote Iran's tourism industry.
Furthermore, it showcased 3D films of historical monuments and tourism destinations using virtual reality cameras and turned the spotlight on Persian cuisines while distributing special publications and brochures.
The Madrid fair is the global meeting place for industry professionals and the premier trade show for destinations and destination markets in Latin America. It is also the largest event in Spain related to the tourism industry, with tens of thousands of participants from all over the world, and related to innovation and the promotion of new tourist segments, technological leadership in the management of tourism, and knowledge transfer tools.
The Islamic Republic expects to reap a bonanza from its numerous tourist spots such as bazaars, museums, mosques, bridges, bathhouses, madrasas, mausoleums, churches, towers, and mansions, of which 26 are inscribed on the UNESCO World Heritage list. Under the 2025 Tourism Vision Plan, Iran aims to increase the number of tourist arrivals from 4.8 million in 2014 to 20 million in 2025.
AFM