Iraq will continue to mediate between Tehran, Riyadh: PM
January 25, 2023 - 19:54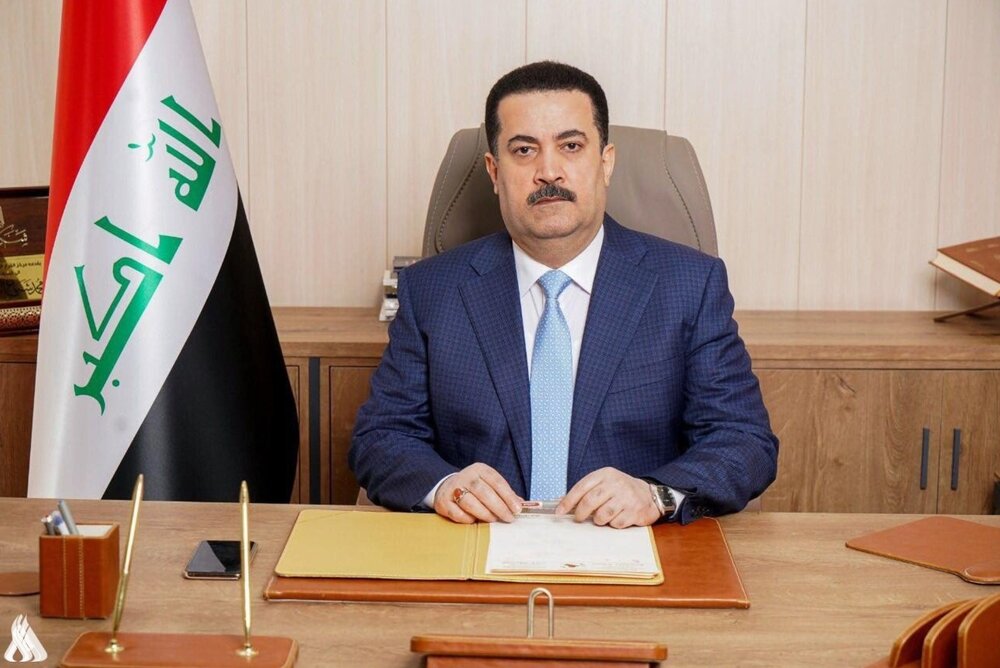 TEHRAN – Iraqi Prime Minister Mohammad al-Sudani has once again reiterated his administration's willingness to continue mediatory efforts to bridge the gap between Iran and Saudi Arabia.
In an opinion piece for Le Monde before his trip to France, al-Sudani outlined the agenda of his government in various fields. In foreign policy, he reiterated Iraq's desire to continue mediation between Iran and Saudi Arabia.
"Our government intends to be a major driving force in regional diplomacy and political tracks. This was clearly demonstrated in the Baghdad Conference 2, which was held with the support of President Macron in the Jordanian capital, Amman, recently; since we were keen on Iraq's refusal to use its lands as a springboard to threaten neighboring countries, we demonstrated our rejection at the same time of any encroachments on our lands," the Iraqi prime minister wrote, according to the official Iraqi News Agency (INA).
He added, "Iraq, through its distinguished relations with its regional surroundings, has become a meeting point for the disparate parties to meet, and it seeks to bridge the distances between the Kingdom of Saudi Arabia and Iran. This is based on our belief that the stability of the region is achieved by overcoming tensions."
Al-Sudani continued, "We will continue our endeavors to bring closer together the points of view of Tehran and Riyadh, as we believe that dialogue and meetings are the only way to reach common ground, and until those understandings reach an advanced stage in the upcoming meetings and gatherings."
This is the second time the Iraqi prime minister underlines his intention to continue mediation between Tehran and Riyadh in a month. Al-Sudani announced in mid-January the continuation of his country's efforts to build bridges between Iran and Saudi Arabia.
In an interview with the Arabic service of DW, al-Sudani revealed that Baghdad continues its efforts to mediate between Saudi Arabia and Iran.
"Balanced relations between Iraq and neighboring countries according to the principle of mutual respect, common interests and non-interference in internal affairs is the best approach for us as a government," he said.
The prime minister added, "Bringing points of view closer between Iran and the countries of the region, including Saudi Arabia, is an approach that the government has followed and continues to follow, and it will contribute to easing tensions in the region, which will reflect on the security of Iraq and the region."
Al-Sudani said, "We find a response from Iran and Saudi Arabia, and we are continuing with these attempts until we resume the meetings in Baghdad soon."
The Iraqi prime minister also praised the depth of Tehran-Baghdad relations. "There is a distinguished and positive relationship with Iran, and what connects the two countries are 1,200 km borders, and religious, cultural and social commonalities, as is the case with Iraq's relations and its Arab depth," he noted.
Earlier this month, al-Sudani said Tehran and Baghdad enjoy a historical relationship. "The relationship with Iran is historical, and we have borders that extend for more than 1,200 kilometers, and there are cultural, religious and social commonalities," he said, according to Iran's official news agency IRNA.
He added, "Since the changes in 2003, Iran has been a supporter of the Iraqi political process and helped Iraq in the fight against the ISIS terrorist group. Relations are positive and within the framework of cooperation and support management, away from interfering in internal affairs," IRNA reported.
The Iraqi prime minister paid a visit to Iran in late November and met almost with all high-ranking Iranian officials, most notably Ayatollah Sayed Ali Khamenei, Leader of the Islamic Revolution.
In his meeting with Ayatollah Khamenei, al-Sudani expressed his thanks to the Islamic Republic for its support and assistance to Iraq in the war on terrorism.
He also highlighted the importance of sustaining bilateral relations between the two countries in various fields, according to a statement at the time by the prime minister's office.