It's 'irrational' to put IRGC on terrorist list: Swedish FM
January 27, 2023 - 21:49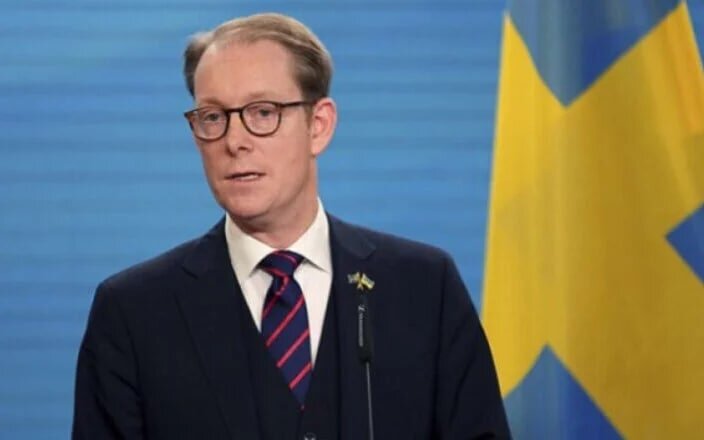 TEHRAN – Swedish Foreign Minister Tobias Billstrom said on Wednesday that Islamic Revolution Guard Corps (IRGC) cannot be named a terrorist organization just for what he called "violation of human rights in Iran".
Such a designation entails observation of "special conditions," said Billstrom, whose country holds the rotating presidency of the European Union.
The European Parliament adopted a non-binding resolution on January 19 in which it called on the EU to put the IRGC on its terror list.
Billstrom told the MEPs sitting on the European Parliament Foreign Relations Committee that placing the IRGC on the EU terrorist list "is in need of strong evidence and documents."
Answering a question by a Swedish MEP who sits on the mentioned committee, Billstrom said he had not given any promise to Iran that Sweden or the EU will not support putting the IRGC on the terrorist list.
The Iranian and Swedish foreign minister held phone talks on January 20. At the talks, Abdollahian said the European Parliament resolution contravenes the UN Charter.
"The Guard Corps cannot be put on the list of terrorist organization just for violating human rights in Iran, rather they should have ties with terrorism," Billstrom noted.
Otherwise, he warned, there is a "danger that a person who is sanctioned would file a complaint at the European Court of Justice and be "delisted" and such a thing has happened in the past, therefore "I don't think such a move will be rational," DW reported.
The chief Swedish diplomat said he highly values the resolution by the European parliament "but it is important to have a correct understanding of legal conditions."
The EU foreign policy chief, Josep Borrell, noted on January 23 that such a designation could only happen if a court in an EU country determined that the IRGC was guilty of terrorism.
"You cannot say 'I consider you a terrorist because I don't like you'," he told reporters ahead of the talks between EU foreign ministers in Brussels.
In talks with Borrell on January 19, Foreign Minister Abdollahian asserted that the European Parliament has "shot itself in the foot" by voting for a resolution asking the European Union and its member states to include the IRGC as a "terrorist organization."
Abdollahian sharply blasted the European Parliament's "emotional, injudicious, inaccurate and unprofessional" move, which he said is at odds with political reason and decency.
Threatening reprisal, Abdollahian stated, "In the field of diplomacy it is vital to respect mutual security and develop mutual trust instead of pursuing the language of threats and hostile acts."
Abdollahian underlined that Iran has frequently declared that the IRGC is an official state body which has had and will continue to have an essential and key role in safeguarding the security of Iran and the region, notably in the battle against terrorism.
He also urged the European Parliament to "ponder about the dire outcomes of its emotional behavior and to concentrate instead on the track of diplomacy, constructive interaction, and rationality."