U.S. hysteria over Chinese weather balloon
February 4, 2023 - 23:20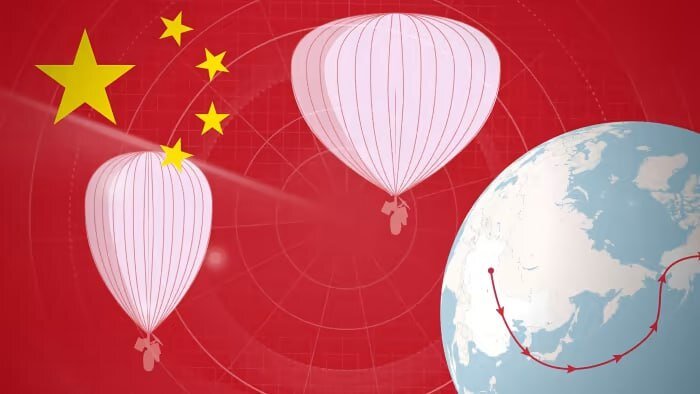 TEHRAN- A Chinese balloon in American airspace has been met with ludicrous allegations of violating "territorial integrity".
Beijing says the balloon was meant to conduct "meteorological" research and had strayed into American airspace because of heavy winds.
Experts have echoed the account, saying the hard to maneuver and high-altitude weather test balloon was blown by winds across North America.
The U.S. accusations are actually quite laughable as balloons were used for surveillance purposes some 70 to 80 years ago.
Technology has since developed and Beijing has advanced satellites operating in space if it had actually wanted to spy on U.S. territory.
The China Daily rightly described the spy balloon claims as a lie, saying "to spy on the U.S. with a balloon, one must both fall far behind to use 1940s technology and be advanced enough to control its flight across the ocean. Those fabricating the lie are only exposing their ignorance."
But the U.S. government, including NORAD (North American Aerospace Defense Command), continues to track and monitor it closely.
The Chinese Foreign Ministry spokesperson says "the unintended entry of a Chinese unmanned airship into the U.S., was 'due to force majeure'," in reference to a legal term that means unforeseeable circumstances.
The ministry has voiced its strong opposition to "some politicians and media in the U.S. [that] have hyped [the situation] up to attack and smear China."
The U.S. Defense Secretary Lloyd Austin has reportedly convened a meeting of senior military and defense officials to review the profile of the balloon and possible responses, which were presented to President Joe Biden.
Military and defense leaders have considered shooting the balloon out of the sky but decided against it citing a safety risk from falling debris.
The weather balloon has caused alarm in the Pentagon which says it is tracking its progress but has decided against shooting it down citing safety issues for civilians on the ground.
This is while U.S. officials have acknowledged it is flying above civilian air traffic and below "outer space", but declined to say how high it was flying.
Prominent figures in the U.S. establishment, including candidates for the 2024 presidential election Donald Trump and former South Carolina governor and UN ambassador Nikki Haley, demanded that the U.S. military immediately shoot down the balloon.
This is while U.S. mainstream media have been running a rolling live coverage over the incident in an attempt to scaremonger the American public toward China.
Senior U.S. State Department officials described the incident as a "clear violation of U.S. sovereignty and international law", while U.S. Secretary of State Anthony Blinken has cancelled his planned visit to China, using the incident as a pretext.
On Blinken's announcement to cancel his planned visit to Beijing, the Chinese Foreign Ministry pointed out that "in fact, neither side has ever announced that there would be a visit. It is a matter for the U.S. to make its latest announcement, and we respect that."
The ministry further explained, "It is a civilian airship used for research, mainly meteorological purposes. Affected by the Westerlies and with limited self-steering capability, the airship deviated far from its planned course. This is entirely an unexpected situation caused by force majeure and the facts are very clear. China always acts in strict accordance with international law and respects the sovereignty and territorial integrity of all countries."
Dismissing U.S. accusations of a Chinese violation against U.S. "territorial integrity and sovereignty", Beijing said, "We have no intention to violate and [China] never violated the territory or airspace of any sovereign country."
Pentagon press secretary Brigadier General Patrick Ryder appeared to contradict the hype about the purpose of the balloon for surveillance purposes, saying it was currently over the center of the continental U.S. and did not "present a military or physical threat to people on the ground."
President Biden, speaking at a White House conference, refused to answer questions on the topic.
That's quite possibly because he had none.
The other possible reason for his refusal to comment on the issue is because this is also a cause of embarrassment for Washington's PR campaign.
How did all the American advanced radar military equipment fail to detect a slow incoming balloon?
The intensity of the wind led the object to have reportedly strayed unintentionally through Latin America, the Aleutian Islands, off the coast of Alaska, and Canada before entering the U.S.
Why have countries in Latin American or elsewhere not lodged any complaints with Beijing over violations against their territorial integrity and sovereignty?
Answer: it is precisely what the Chinese government stated it to be: "a civilian airship used for research, mainly meteorological, purposes" and because it had "limited self-steering capability, the airship deviated far from its planned course."
The wider question is that there is no country on the planet Earth that the United States has refused to violate its sovereignty and territorial integrity.
Looking at China alone, Washington has been violating its sovereignty and territorial integrity by regularly sending high ranking politicians to Taiwan (a Chinese province led by self-ruled administration with a separatist agenda) in a clear violation of China's territorial integrity, sovereignty as well as a violation of the one-China policy as well as international law.
Add to that, the tens of billions of dollars' worth of weapons that Washington have shipped to Taipei, the numerous U.S. aircraft carriers and strike groups that have sailed in the South China Sea.
The U.S. is also forging new military alliances with various countries around China in a bid to contain Beijing.
While Washington seeks escalation, Beijing seeks the opposite.
In reaction to the recent unintentional incident China says that maintaining communication channels at all levels was important, "especially in dealing with some unexpected situations in a calm and reliable manner".
Nevertheless, Washington has effectively dismissed Chinese statements.
"We are aware of the PRC [People's Republic of China] statement," Pentagon press secretary Brigadier General Patrick Ryder said. "However, the fact is, we know that it's a surveillance balloon. And I'm not going to be able to be more specific than that. We do know that the balloon has violated U.S. airspace and international law, which is unacceptable."
This raises the question of what is unacceptable?
The U.S. violations of the territorial integrity and sovereignty of pretty much all the countries in West Asia, Latin America, Africa and beyond.
Washington has waged invasions, wars, drone attacks, terror, unrest and hybrid warfare in all continents.
It has used proxies, such as Israel, to destabilize West Asia and instigate terror in the region.
The U.S. has used sanctions to starve tens of millions of civilians in Latin America, West Asia and beyond.
The balloon incident has however led to a number of amusing posts on social media, including this one from the … the US Naval Institute … which accurately stated:
"Since 'Chinese Spy Balloon' is trending: In 1945, the crew of USS New York spotted a sphere that they thought might be a Japanese balloon weapon. The captain ordered it shot down but none of the guns could score a hit. Finally, a navigator realized they were attacking Venus."
The Planet is also referred to as the Morning Star or the Evening Star because it shines so brightly.
Only the minds of the foreign policy makers in Washington DC have the ability to operate so brightly.