Iran's hospitality culture spread by tourist guides, deputy minister says
February 22, 2023 - 19:10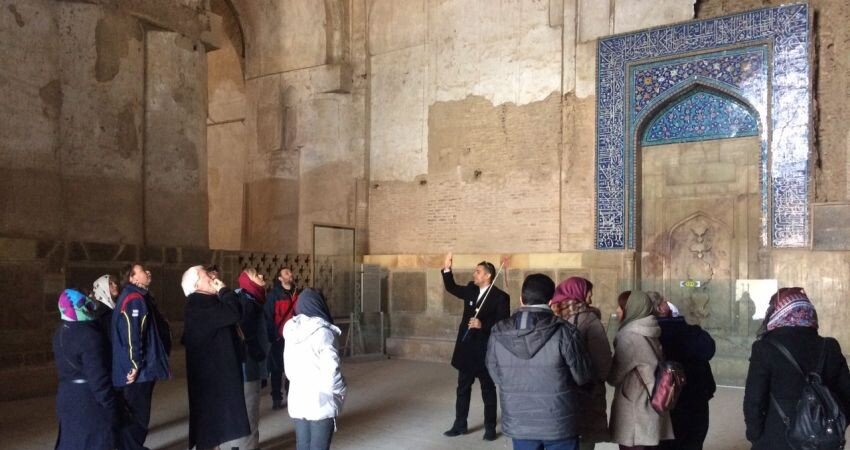 TEHRAN – Tourist guides are the ones who spread the culture of Iranian hospitality, the deputy tourism minister has said. 
The mission of tourist guides is to interpret the history and culture of Iranian hospitality for tourists, Ali-Asghar Shalbafian explained on Tuesday.
He made the remarks on the occasion of the International Tourist Guide Day, which was celebrated worldwide on February 21.
As interpreters of Iranian history, tourist guides possess a wide range of outstanding human and professional qualities, he noted.
Developing tourism throughout the country requires the professional activity of tour guides who know and understand their role and responsibility, the official added.
Earlier this month, the official announced that Iran recorded more than three million foreign tourist arrivals in the first nine months of the current Iranian calendar year (1401, which started on March 21).
"In 1400, more than 1.3 million tourists entered the country, of which 11% were one-day visitors," the official stated.
Talking about the number of outbound passengers, the official said: more than seven million Iranian nationals traveled abroad [during the mentioned period], and of the number about six percent, were one-day visitors.
He put the number of outbound passengers at 2.8 million for the past Iranian year, adding some 10% of the passengers were one-day visitors.
Earlier in August 2022, the tourism minister Ezzatollah Zarghami announced that the Islamic Republic had recorded about 2.9 million foreign tourist arrivals "over the past 11 months." "With the support of President Ebrahim Raisi [the issuance of the tourist] visas has been resumed and 2,900,000 people entered Iran in less than a year. And this amount is growing and increasing," Zarghami said in a televised speech.
The minister added one of the priorities that his ministry follows was to develop tourism ties with the neighboring countries. "Our priority is to strengthen relations with neighboring countries and now we are pursuing the project of cheap overland travels with neighboring countries."
Long shunned by Western travelers, the Islamic Republic has steadily stepped-up efforts to use tourism, over the past couple of years, to help promote its international image battered by endless opposition mostly from the U.S.
Before the COVID pandemic, Iran's tourism had constantly been growing, reaching more than eight million visitors in the Iranian calendar year 1398 (started March 21, 2019). That surge, however, helped prejudices to become thick and thin.
Some experts believe even before the pandemic, Iran's tourism was already grappling with some challenges, on top of those Western "media propaganda" aimed at scaring potential travelers away from the Islamic Republic. They say Iran is still somehow "unknown" for many potential travelers due to such a "media war."
The Islamic Republic expects to reap a bonanza from its numerous tourist spots such as bazaars, museums, mosques, bridges, bathhouses, madrasas, mausoleums, churches, towers, and mansions, of which 26 are inscribed on the UNESCO World Heritage list.
ABU/