'Many Iraqis are interested in studying in Iran'
March 6, 2023 - 17:30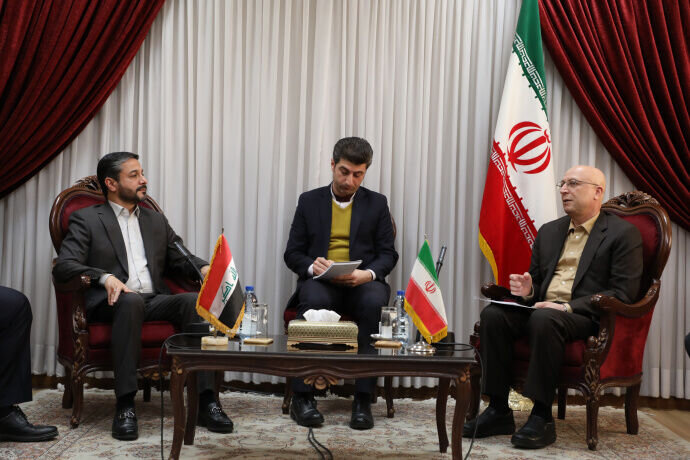 TEHRAN – Iraqi Minister of Higher Education and Scientific Research, Naeem Al-Aboudi, has said many Iraqi youths are interested in continuing their higher education in Iran.
Now the demand for studying in Iran is very high and a large number of Iraqi students are interested in continuing their higher education in Iran as a friendly and neighboring country, he added.
The Iraqi official made the remarks in a meeting in Tehran on Sunday with Iran's Minister of Science, Research, and Technology, Mohammad-Ali Zolfigol, IRNA reported.
He pointed out that some 75,000 Iraqi nationals are currently studying in Iranian universities.
"The scientific abilities and capacities of the two countries require that we boost cooperation in the field of science and research, and in this field, we need detailed planning and the formation of special working groups," Al-Aboudi highlighted.
Zolfigol, for his part, while emphasizing the need to increase joint scientific exchanges between Iran and Iraq and holding joint seminars, said holding a joint meeting between heads of universities and research and technology centers of the two countries can help increase cooperation.
In July 2022, the Iranian deputy science minister Vahid Haddadi-Asl said from among Islamic and neighboring countries, Iran puts the priority on increasing academic cooperation with Iraq.
In a meeting with Iraqi Ambassador to Tehran Naseer Abdul Mohsen Abdullah, he said Iraq has the largest number of foreign nationals studying in Iran, so removing their problems is one of the most important missions of the science ministry, IRNA reported.
The number of foreign students will double in the Iranian universities in the next three years, Hashem Dadashpour, the Iranian deputy science minister has said.
Universities should increase their interactions and scientific exchanges in order to attract international students and accelerate internationalization in the region and the world, he highlighted.
Iranian universities achieved good ranks at the global level and based on the evaluations of the world's most prestigious institutions so that there is the capacity to attract international students, he said.
He mentioned holding the cultural and sports Olympiad for international students as a way to make them more aware of Iran's capabilities, ISNA reported.
By the next three years, the number of foreign students from 120 countries will increase by two times in the universities of the country, he predicted.
Some 108,000 students from 117 countries have enrolled in Iranian universities for the current academic year (started September 23, 2022), Mohammad Mohammadi-Masoudi, an official with the Ministry of Science, Research, and Technology has said.
MG