"Omid and Roya" leave Iran for Siberia
March 6, 2023 - 17:30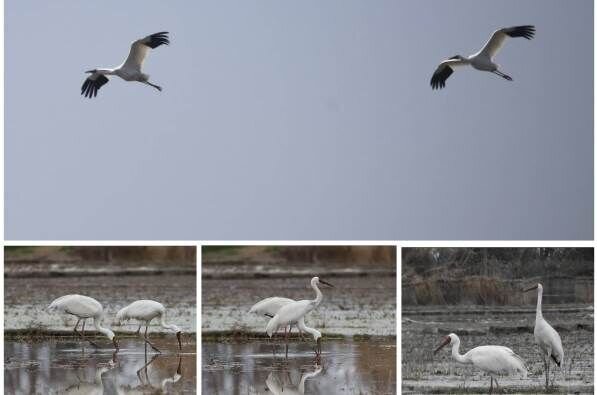 TEHRAN – Omid, the last survivor of the Siberian cranes in Iran, along with its new companion, Roya, left Fereydunknar International Wetland in Mazandaran province for Siberia on Sunday.
After passing over the skies of Mazandaran, Gilan, and Ardebil provinces, the two Siberian cranes will fly to Azerbaijan, IRNA quoted Hassan Akbari, an official with the Department of Environment, as saying.
In the Persian language, Omid and Roya mean Hope and Dream, respectively.
After losing his couple Arezoo (meaning Wish in Persian), Omid came every year to the Fereydunknar International Wetland for wintering.
Considering that Omid is the last survivor of the western population of Siberian cranes, the Department of Environment decided to receive a young female Siberian crane from the Cracid & Crane Breeding and Conservation Center (CBCC) in Belgium.
Environmental experts hope that Omid and Roya can overcome this difficult situation, away from possible dangers, and return to Iran next year.
According to the International Crane Foundation website, this critically endangered species is now only found in one main population in East Asia, with a few birds remaining in the historic Western/Central population.
The Eastern population breeds in northeastern Siberia and winters at Poyang Lake in the Lower Yangtze River Basin in China. In the Western/Central population, a single crane [Omid] continues to winter along the south coast of the Caspian Sea in Iran. This population is bred just south of the Ob River in Russia.
With a height of 140 centimeters and a weight of 6 kilograms, there are only 3,600 to 4,000 cranes left in the world. The Eastern population is stable, but the Western/Central population is almost extirpated.
Adult cranes have red skin on the forehead, face, and sides of the head, white plumage with black wingtips, and reddish-pink legs while juvenile cranes have a plumage mix of white and cinnamon-brown feathers and tan head.
The oldest documented crane was a Siberian Crane named Wolf, who died at the age of 83. Wolf is in the Guinness Book of World Records.
Habitat loss, especially due to changing hydrology caused by water diversions and conversion of wetlands, illegal take including hunting, trapping and poisoning, pollution, and environmental contamination is threatening this endangered species.
MG