Iran leads regional art project promoting liberation of Quds
April 14, 2023 - 17:51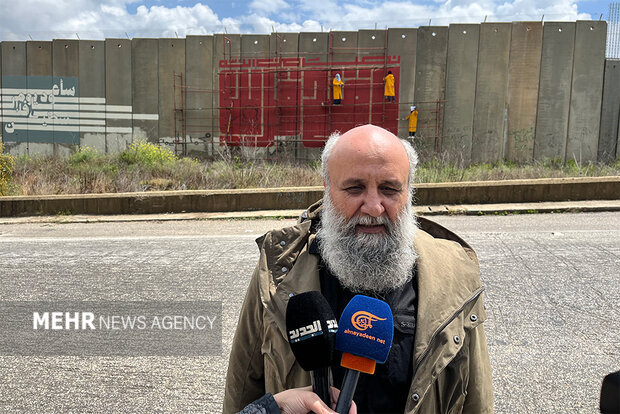 TEHRAN – Art Bureau of Iran's Islamic Ideology Dissemination Organization has initiated a regional art project that promotes the liberation of Quds.
The first part of the project was comprised of a huge graffiti created by six artists from Iran, Palestine, Algeria, Syria, Egypt and Lebanon on a wall separating Lebanon from the Occupied Palestinian Territory.

The graffiti reads "A Victory Near at Hand" has been produced by Masud Nejabati from Iran, Reza Qasir from Lebanon, Ali Jarwan from Palestine, Fadi al-Faraj from Syria, Samir Badash from Algeria and Wala Muhammad from Egypt.
The artwork representing part of the Quranic verse "Help from Allah and a victory near at hand" (61:13) was unveiled on Friday to mark International Quds Day.
"Due to changes taking place in the region, we have focused on topics such as victory and triumph and phrases such as 'We will soon perform Salah in Quds' that are inspiring and shape the future of the Muslim world," Nejabati told the Persian service of MNA on Thursday.
"By this artwork, the artists emphasize the need to liberate Quds from the Zionist regime and condemn the regime's crime against Palestinians," he added.
Speaking to the MNA, Seyyed Amir Javid, an aide to the director of the Art Bureau, said that the art project will continue all over the year in all art media.
To implement the art project, he said that the Art Bureau welcomes any plan from artists dedicated to the Islamic Revolution as well as those freedom-loving artists from around the world.
Nejabati is among the nominees in the visual art category for the Islamic Revolution Artist of the Year.
The winner of the title will be announced on the closing day of the Islamic Revolution Art Week on Saturday.
The Islamic Revolution Art Week is organized every year to commemorate the martyrdom anniversary of documentarian Morteza Avini.
He was killed by a landmine in 1993 during his last trip to the former Iran-Iraq war zone in southwestern Iran while making a documentary about soldiers who were still listed as missing in action.
Photo: Iranian graphic designer Masud Nejabati attends an interview at the foot of the graffiti "A Victory Near at Hand" in southern Lebanon on April 13, 2023. (Art Bureau)
MMS/YAW