By Sondoss Al Asaad
Persecution of Bahrain's Shiites persists during Ramadan
April 23, 2023 - 22:9
Denouncing normalization is a further reason for reprisal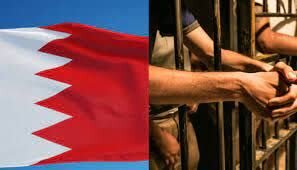 Another spree of arbitrary arrests has been reported across Bahrain, with nearly a dozen people incarcerated in what is being labeled as the ongoing repression against Shiite religious practices.

Islamic eulogist Abdul Amir Al-Biladi has been remanded in custody for a week "pending an investigation." Al-Biladi, who was detained on Wednesday, reportedly drew the ire of Bahraini authorities after reciting a poem on the martyrdom of Imam Ali (AS), which touches on the popular rejection of the shameful normalization moves.
Speaking to Shiite worshipers during Friday prayers at Bahrain's Imam Al-Sadiq Central Mosque marking International Quds Day, Bahrain's Sheikh Ali Al-Sadadi has affirmed that Muslims will never give up their claim to "the cause of the Al Aqsa Mosque, Al Quds, and Palestine."
The cleric has reminded that it did not matter how long the struggle for the liberation of Palestine took because it does not have a "statute of limitations" and "will not be offset by regimes that collaborate with Israel."
Sheikh Al-Sadadi has further reiterated that Manama's normalization with Israel "is not the will of the Bahraini people."
Remarkably, the Palestinian keffiyeh has been a prominent feature during the Friday prayers with both worshipers and religious leaders sporting the checkered black and white scarf - an icon of Palestinian nationhood.
In parallel, large crowds fill the Bahraini towns, including Sitra, Al Musallah, Shahrakan, and Duraz, in a showcase of solidarity with Palestinians and in condemnation of the ongoing Israeli occupation of Arab lands.
Speaking at a forum dedicated to Quds Day, Bahrain's top religious authority, Ayatollah Sheikh Isa Qassim has stressed that the Bahraini people's support for the Palestinian cause is not concealed; neither is the price that they are paying for that support.
"The people of Bahrain have unconditionally and constantly sacrificed for the causes of Islam and justice; they will continue to make sacrifices on this path, regardless of whom they anger or satisfy," Ayatollah Qassim has affirmed.
In a related context of sectarian persecution, Bahrain's SALAM for Democracy and Human Rights has called for an end to sectarian discrimination against the Shiite majority as the NGO marks exactly 12 years since Manama bulldozed roughly 38 Shiite religious sites.
While urging Manama to abide by its commitments to religious freedoms, the local rights watchdog has pointed out that at least 7 of the demolished mosques have not been rebuilt. It has also pointed out that another 7 have been reconstructed by members of local communities who are yet to be compensated by authorities.
These religious sites were razed over a two-month period at the height of anti-regime protests in 2011 including the Barbagi Historical Mosque.
Besides, Bahrain's interior ministry reportedly confiscated loudspeakers used during religious gatherings, where they were given a choice between handing them over or facing potential criminal charges.
Another senior cleric, Sayyed Abdullah Al-Ghuraifi, has reminded the authorities that the Eid Al Fitr holiday represents a "great opportunity for the release of all the political prisoners."
"We appreciate the release of prisoners that took place," Sayed Al-Ghuraifi said in reference to a small group of political detainees who were paroled during the holy month of Ramadan.
The London-based Bahraini activist Sayyed Ahmed Al-Wadaei reported that Manama has released only 58 political prisoners from the Jau Prison out of a total of 558 detainees paroled under the so-called Alternative Punishment law, labeled as an "alternative oppression" by Ayatollah Qassim.
"We hope that every prisoner will return to his natural place in this country and for the fathers, mothers, wives, and children to no longer shed tears. The joys of the Eid await more releases," Sayed Al-Ghuraifi has wished.
For her part, the UN special rapporteur on human rights defenders, Mary Lawlor, urged Manama to release Abduljalil Al-Singace "as a mercy for Ramadan." On Twitter, Lawlor wrote "Al-Singace, a Bahraini human rights defender with disabilities, was imprisoned for his activism; he is old and infirm."
Her colleague, the UN rapporteur on the rights of persons with disabilities, Gerard Quinn, called on Manama to respect Al-Singace's fundamental rights. "As a human rights defender with a disability in detention, Al-Singace faces additional risks," Quinn warned.
Al-Singace is serving a life sentence for his role in Bahrain's 2011 pro-democracy peaceful uprising. He has been on a hunger strike since July 2021 after the confiscation of academic research he compiled while in custody.
Meanwhile, new malicious charges of "insulting Israel" were filed against Abdulhadi Al-Khawaja as he remains behind bars. The prominent rights advocate (sentenced to life imprisonment) informed his family that he raised anti-normalization slogans in the prison yard during the visit of Israeli Prime Minister Naftali Bennett in February 2022.
Al-Khawaja's family accused Manama of continuing to deprive him of medical treatment while falsely claiming that he is the one refusing to go to the hospital. He suffers from heart problems but is not allowed to see a cardiologist. His family explained that the same excuses have been used to prevent him from attending court hearings.
Apparently, the authorities in Bahrain are fed up with the wide popular rejection of normalization. It has become clear, more than two years after that shameful agreement, that the enthusiasm of the Bahraini people towards the Palestinian cause has only strengthened, and that the Israeli presence in Bahrain will not make things normal, not today, tomorrow, or decades later.
Sondoss Al Asaad is a Lebanese journalist