Shakespeare's tragedy "Romeo and Juliet" coming to Tehran theater 
April 28, 2023 - 18:2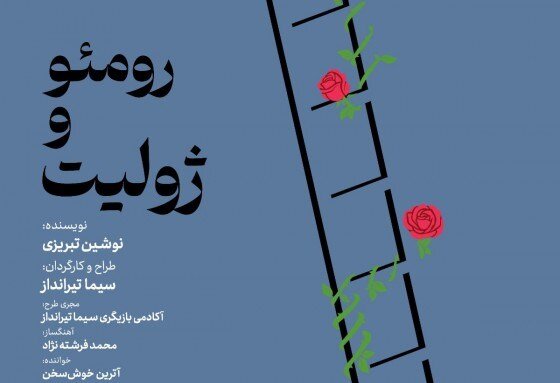 TEHRAN – William Shakespeare's sad romantic play "Romeo and Juliet" will be performed tomorrow at Neauphle-le-Chateau Theater in Tehran.
Sima Tirandaz will direct the drama, which was one of Shakespeare's most popular plays during his lifetime, and, along with Hamlet, is one of his most frequently performed plays.
A cast of several renowned actors and some students from her acting workshop will perform the play, which has been revised by playwright Nushin Tabrizi for performance in Iran, said Tirandaz, who will also play a role in this play.
"Tabrizi has revised the play based on the level of the students' skills, and in fact, the play is a loose adaptation of the original edition," she added.

"Stage reading is an absolute necessity for acting learners in my workshops and our latest reading performance held at the City Theater Complex provided useful experiences for the students," she noted.
"Romeo and Juliet" belongs to a tradition of tragic romances stretching back to antiquity. The plot is based on an Italian tale written by Matteo Bandello and translated into verse as The Tragical History of Romeus and Juliet by Arthur Brooke in 1562 and retold in prose in Palace of Pleasure by William Painter in 1567.
In "Romeo and Juliet", an age-old vendetta between two powerful families erupts into bloodshed. A group of masked Montagues risk further conflict by gatecrashing a Capulet party.
A young lovesick Romeo Montague falls instantly in love with Juliet Capulet, who is due to marry her father's choice, the Count of Paris.
With the help of Juliet's nurse, the women arrange for the couple to marry the next day, but Romeo's attempt to halt a street fight leads to the death of Juliet's own cousin, Tybalt, for which Romeo is banished.
In a desperate attempt to be reunited with Romeo, Juliet follows the Friar's plot and fakes her own death.
The message fails to reach Romeo, and believing Juliet is dead, he takes his life in her tomb. Juliet wakes to find Romeo's corpse beside her and kills herself. The grieving families agree to end their feud.
Photo: A poster for "Romeo and Juliet", which will be directed by Sima Tirandaz.
MMS/YAW