By Ali Karbalaei
Butcher of Palestinian children
May 10, 2023 - 22:22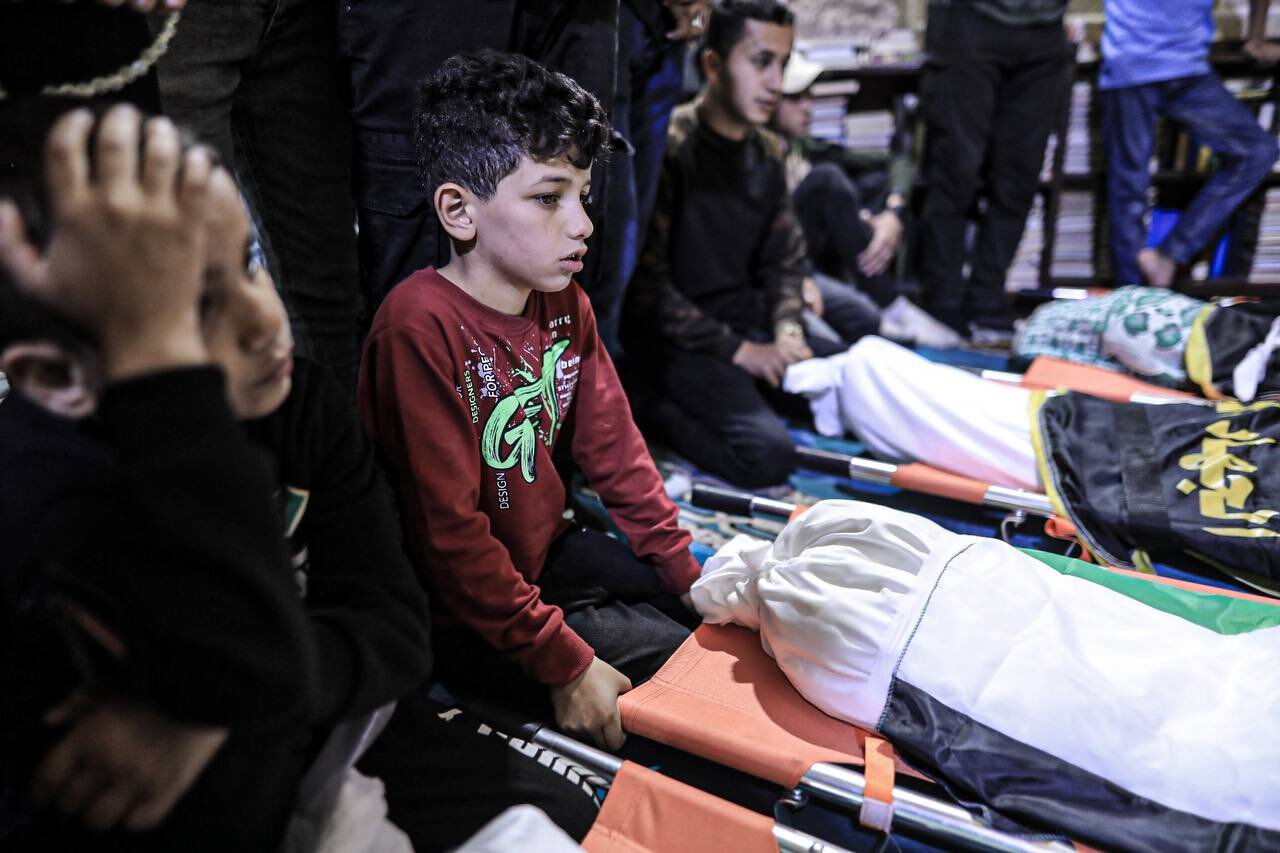 TEHRAN- Children are the most vulnerable group in critical situations. The deeper the crisis, the deeper and wider the damage to children.
When a country is hit by a natural disaster or a war is imposed on a country or the country is occupied, children are among groups that suffer the most.
These damages are caused by the fact that the international organizations active in protecting children's rights do not work well, which increases their vulnerability and sometimes reaches disaster level.
In history, we see many examples of crimes against children.
From the wars of the past to the modern wars of today, this group has always seen much damage.
In recent centuries, with the occurrence of two world wars and regional wars, the statistics given by international organizations about the killing of children are very terrible, but what the people of the world have become accustomed to hearing for more than seven decades is the pathetic situation of children in the occupied lands and systematic cleansing of Palestinian children by Israeli soldiers.
'Blood libel' is implemented in practice
The Israeli military arrested and interrogated hundreds of Palestinian teenagers in 2022 in the occupied West Bank, without ever issuing a summons or notifying their families, according to a report by the Israeli human rights organization HaMoked.
In the vast majority of the military's pre-planned arrests of minors last year, children were taken from their homes in the dead of the night, HaMoked said.
After being yanked out of bed, children as young as 14 were interrogated while sleep-deprived and disoriented. Water, food and access to toilets were often withheld, the report said.
The reports of Jewish human rights organizations inside the occupied territories in Israel clearly show that Israel's goal and plan is the systematic killing of Palestinian youth and children.
Vampires of Palestinian children remind us to think deeply about 'Blood Libel'.
Last year (2022) Israeli forces killed at least 146 Palestinians, including 34 children (some resources put the number at 36), the Israeli rights group B'Tselem reported, making 2022 the deadliest for Palestinians in the West Bank in 18 years.
Last fall in the Jerusalem neighborhood of Beit Hanina, Rania Elias heard pounding on the door before dawn. Her youngest son, 16-year-old Shadi Khoury, was sleeping in his underwear. Israeli police burst into their home, shoved Khoury to the floor, and pummeled his face. Blood was everywhere, she said, as police dragged him to a Jerusalem detention center for interrogation.
"You can't imagine what it's like to feel helpless to save your child," Elias said.
In response to a request for comment, the Israeli police said they charged Khoury with being part of a group that threw stones at a Jewish family's car on Oct. 12, wounding a passenger!
Naming 2022 year deadly for Palestinian children in the occupied West Bank, including East Jerusalem and the Gaza Strip, Defense for Children International – Palestine (DCIP) wrote in a report on December 23, 2022:
Under international law, intentional lethal force is only justified in circumstances where a direct threat to life or serious injury is present. However, investigations and evidence collected by DCIP regularly suggest that Israeli forces use intentional lethal force against Palestinian children in circumstances that may amount to extrajudicial or willful killings.
Half of all Palestinian children shot and killed by Israeli forces in 2022 were killed in the Jenin or Nablus governorates in the northern occupied West Bank, according to documentation collected by DCIP.
17 Palestinian children were confirmed killed after the Israeli military launched a three-day military offensive on the Gaza Strip in early August, according to documentation collected by DCIP.
Israeli forces killed eight Palestinian children in four separate airstrikes between August 5–7, and DCIP field researchers investigated two other incidents where four Palestinian children were killed.
DCIP estimates an average of 132 Palestinian children were held in Israeli military detention each month in 2022. Precise data is not available because the Israeli Prison Service has stopped releasing detainee headcounts on a monthly basis.
Children typically arrive at interrogation bound, blindfolded, frightened, and sleep-deprived. Children often give confessions after verbal abuse, threats, physical and psychological violence that in some cases amounts to torture.
Israeli military law provides no right to legal counsel during interrogation, and Israeli military court judges seldom exclude confessions obtained by coercion or torture.
From testimonies of 84 Palestinian children detained by Israeli forces from the occupied West Bank, including East Jerusalem, DCIP found that:
• 70 percent experienced physical violence following an arrest
• 94 percent were hand-tied
• 87 percent were blindfolded
• 54 percent were detained from their homes in the middle of the night
• 58 percent faced verbal abuse, humiliation, or intimidation
• 58 percent were subject to at least one strip search
• 63 percent of children were not properly informed of their rights
• 99 percent were interrogated without the presence of a family member
• 17 percent were subject to stress positions
• 29 percent were shown or signed documents in Hebrew, a language most Palestinian children don't understand
• 25 percent were isolated in solitary confinement for two or more days
Between 2012 and 2014, Israeli authorities briefly suspended the practice of detaining Palestinian children under administrative detention orders. However, since October 2015, DCIP has documented 57 Palestinian children held by Israeli authorities pursuant to administrative detention orders, a practice that amounts to arbitrary detention under international law.
DCIP documented the highest number of administrative detention cases in 2022 since October 2015.
Last supper of Gaza children
Alarmed by the killing and injury of many children in Israel and Palestine, the UN Children's Fund (UNICEF) voiced an appeal to parties on Monday Jan. 30, 2023, to de-escalate tensions and refrain from violence.
"Children continue to pay the highest price of violence," the statement declared. "As the situation remains very volatile, UNICEF fears that an increasing number of children will suffer."
Just a few weeks into the new year, seven Palestinian children had been killed and many more injured.
13 Palestinians, including 4 children, were martyred in the latest Israeli attack on the Gaza Strip, which took place on the morning of Tuesday, May 9.
"People have not been able to sleep since 4:00 in the morning. The children woke up to the sound of explosions, and they were terrified. We have children, women, patients and elderly people. This is not normal," a witness named Hani Jaber said.
Under Prime Minister Benjamin Netanyahu's new ultra-nationalist government, parents say they fear for their children more than ever. Some of the most powerful ministers are Israeli settlers who promise a hard-line stance against the Palestinians.
"This is the darkest moment," said activist Murad Shitawi, whose 17-year-old son Khaled was arrested last March in a night raid on their home in the West Bank town of Kfar Qaddum. "I'm worried for my sons."