Iranian swimmer Asghari sets new Guinness World Record
May 17, 2023 - 14:44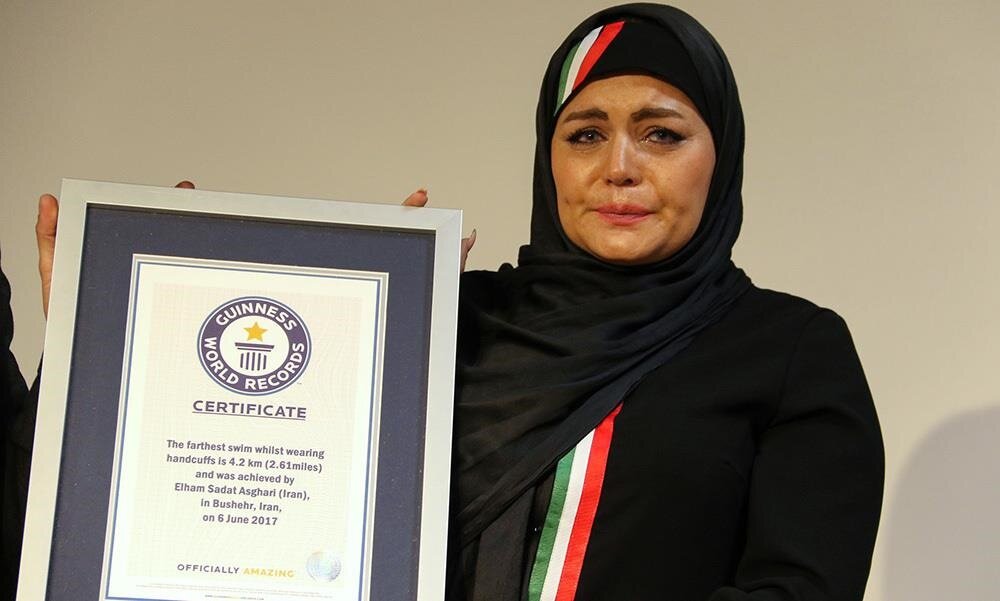 TEHRAN - Iranian swimmer Elhamsadat Asghari achieved the fastest time to swim 5 km pulling a canoe/kayak in 1 hr 58 min 40 sec.
Notably, Elham has shattered multiple records previously held by men, including the fastest 10 km swim (one arm) in open water, completed in an astonishing 4 hr 58 min, breaking the previous record held by Teodor Tsvetkov of Bulgaria, guinnessworldrecords.com reported.
She has also set a new standard for the farthest distance swimming while wearing handcuffs, having broken the record not once, but twice. That record is now held by Shehab Allam.
Asghari began swimming at the age of five and started teaching others at 17. Her dream was to swim in open waters, so she searched for training programs online to achieve her goal. Her father, who worked as a wrestler, supported her efforts and encouraged her to set records.
"This recent record was the most challenging for me, as it required a combination of strength, speed, and endurance, and I am more suited to endurance swimming. By the third kilometer, my legs were completely exhausted and there was significant pressure on my back," said Asghari.
In June 2013, she swam for 20 km (12.4 mi) in the Caspian Sea, despite the obstacles that Iranian female athletes face. To adhere to these restrictions, she developed a special swimsuit that covers the entire body, adding an extra 6 kg (13.2 lb) of weight in the water.
"Most of the time, my father accompanies me, but for this particular record, he could not join me due to his advanced age, so I undertook it on my own," she added.