Iran says first phase of implementing S300 missile deal completed
April 11, 2016 - 18:44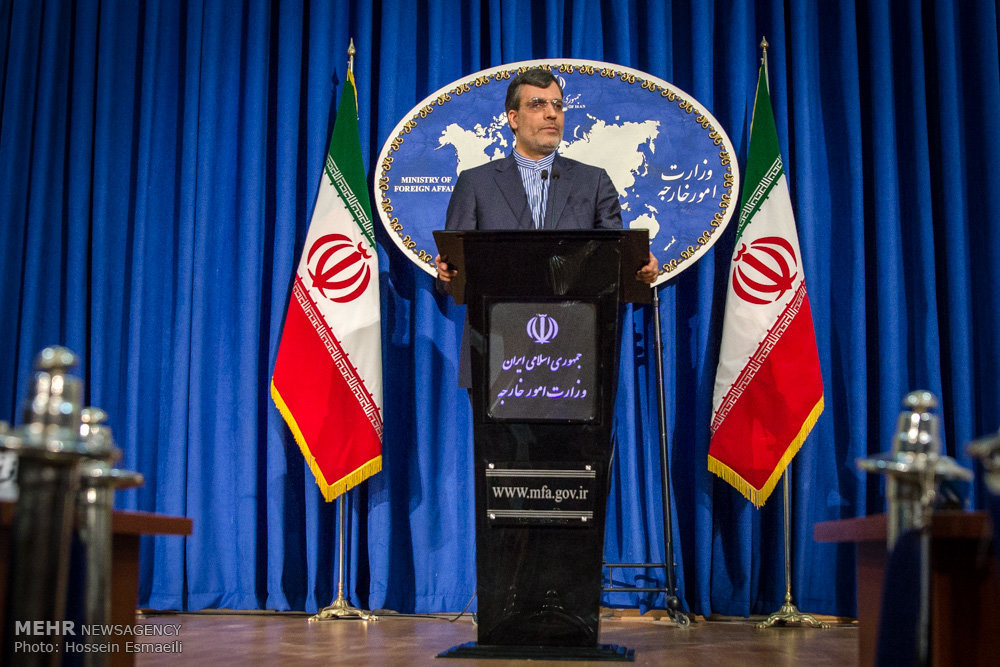 TEHRAN – Iranian Foreign Ministry spokesman Hossein Jaberi Ansari said on Monday that the first phase of the delivery of the Russian S300 missile systems to Iran has been completed.
"The first phase of the agreement has passed the implementation stage and we hope that various implementation phases would be completed," Jaberi Ansari said in his press conference.
He said that new agreements have been concluded between Tehran and Moscow for delivery of the missile system.
----Seven EU commissioners to accompany Mogherini in Tehran visit
He also said that Federica Mogherini, the EU foreign policy chief, is scheduled to visit Iran on April 16.
He said that serious talks will be held in political and economic areas when she visits Iran at the head of a top EU delegation.
Mogherini will be accompanied by seven European commissioners which will show the "importance of the visit", the Foreign Ministry official noted.
According europa.eu, European Union Commissioner for Climate Action and Energy Miguel Arias Canete, EU Environment, Maritime Affairs and Fisheries Commissioner Karmenu Vella, EU Commissioner for Humanitarian Aid and Crisis Management Christos Stylianides, EU Commissioner for Transport Violeta Bulc, EU Commissioner for Industry Elzbieta Bienkowska, EU Commissioner for Education, Culture, Youth and Sport Tibor Navracsics, European Commissioner for Research, Science and Innovation Carlos Moedas will accompany the chief EU diplomat.
-----'Saudi Arabia follows counter-clockwise policy'
Jaberi Ansari confirmed that Saudi Arabia has imposed new sanctions on Iran to curb the country's oil export, saying Saudi Arabia follows "counter-clockwise policy".
He called Saudi Arabia's actions go against the "international will".
He also said that the Hajj and Pilgrimage Organization will send a delegation to Saudi Arabia on April 14 to make preparations for Hajj.
Iran strongly protested Saudi Arabia when about 400 Iranian pilgrims were killed in a stampede in Mina on September 24, 2015.
Saudi Arabia as a host country is obligated to guarantee the safety of pilgrims, the official remarked.
He added Saudi Arabia claims that Hajj has nothing to do with politics but the approach taken by this country so far is quite different.
-------Zarif to attend OIC meeting
Elsewhere, he said that Iranian Foreign Minister Mohammad Javad Zarif plans to attend the summit of the Organization of the Islamic Cooperation in Istanbul.
The OIC heads of state will meet in the Turkish city on Aril 14 and 15.
The spokesman added the decision whether Iran will participate at level of president will be announced by the presidential office.
-----Iran prioritizes close ties with neighbors
The first priority of Iran's foreign policy is expansion of ties with neighboring countries based on mutual interests, he said.
"Unfortunately, some regional actors' policy has worsened the clashes and division at the regional level and the Islamic Republic of Iran is at the opposite point of this policy," he noted.
Elsewhere, Jaberi Ansari said that UN Special Envoy for Syria Staffan de Mistura was scheduled to arrive in Tehran on Monday night.
---No post in Foreign Ministry is permanent
The spokesman also said no post at the Foreign Ministry if permanent.
The remarks by Jaberi Ansari came after reports surfaced that Hossein Amir-Abdollahian, the Iranian point man for Arab affairs, is going to be replaced by another diplomat.
The change of posts in the Foreign Ministry in summertime is something normal, he added.
NA/PA