Cultural ties put Iran, S Korea closer than ever for cooperation
May 5, 2016 - 10:48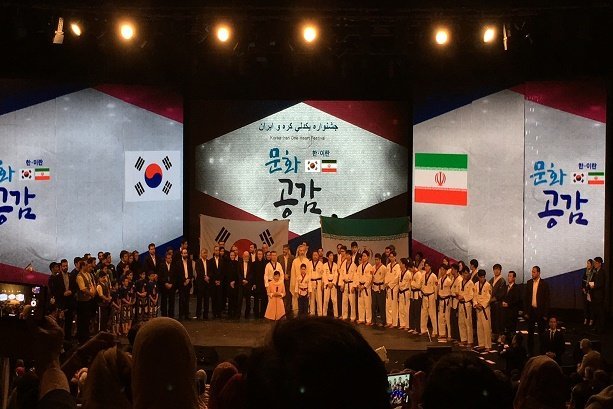 TEHRAN- Speaking at a cultural event on Mon. in Tehran, celebrating Iran and South Korea's deep historical ties, Korean President Park vowed to increase efforts for more cultural exchanges with Iran.
On May 2, Tehran Milad Tower International Convention Center was host to a great cultural event, celebrating Iran-Korea's 1500's years of shared cultural ties. Entitled 'Korea-Iran One Heart Festival' ('one heart' being a literal translation of 'yek-deli', a Persian word meaning 'harmony, solidarity'), the event brought together some 1500 Iranian and Korean people to relish two hours of breathtaking cultural performances, to highlight the two countries' deep historical ties that go as far back as 1500 years, from the Silla era, when Korea-Middle East relations were first noted.
The significance of gaining a deeper understanding of the history and culture of these two great civilizations is undebatable, as such understanding would provide a stronger foundation for more substantial cooperation in the future. The festival which took place Monday evening gained even more weight with the presence of South Korean President among the other audience in the hall, sitting next to Minister of Culture Ali Jannti and Vice President for Women and Family Affairs, Shahindokht Molaverdi.
The festival kicked off with a flawless collaboration between Korea Gugak Orchestra and Iran National Orchestra, displaying 'harmony' between the two nations at its peak, as the language barriers melted away under the imposing influence of music, which in the words of Henry Wadsworth Longfellow, is the universal language of mankind.
Following the beautiful, peace-offering sound of music, which was enthusiastically received by both Korean and Iranian audience, a highlight of Pahlevani and zoorkhaneh rituals were performed by Iranian athletes. The traditional rituals combine martial arts, calisthenics, strength training and music, promoted as a symbol of Iranian pride and culture. When a young boy, almost 10 or 11 years old, performed 'spinning' flawlessly or another athlete juggled heavy looking clubs in unison to the drum beats of the 'morshed', the audience, including the Koreans, went wild, giving a rousing ovation.
It was only natural that the traditional Persian martial arts be followed by one from South Korea, namely Taekwondo. K-sports Foundation put on a marvelous demonstration of Taekwondo on the Iranian stage, which, some think of as a reflection of Korea's dynamic history and culture. The audience was specially impressed by the techniques the Korean Taekwondo team used in smashing tiles from a height or with blindfolded eyes.
The Taekwondo demonstration was the finishing cultural programs followed by a brief speech by President Park who walked up to the stage amid standing ovation. Not only was the presence of such high-ranking foreign official among the public a memorable occasion on its own, but this was the first ever trip by a South Korean leader to Iran since Seoul-Tehran relations were established 54 years ago.
President Park was attending the festival right after her meeting with Leader Ayat. Khamenei and earlier meeting with President Rouhani. She said the historical and cultural commonalities between Iran and South Korea have brought the two countries so close together.
"The number of Iranians who practice Taekwondo has reached 2 millions," she said to the applauding audience. "and I know that the dear people of Iran are great fans of Korean TV series, such as Dae Jang Geum (Jewel in the Palace) and Jumong."
Indeed, Iranian audience followed the airing of these two Korean TV shows with great enthusiasm. Jewel in the Palace (2003-4) was broadcasted on Iran's national TV channel in 2006 and had a rerun seven years later due to its lingering popularity. Perhaps what made the series so popular among the Iranian audience was the familiarity with romance dramas, family values and the all-too-familiar struggles of a woman to achieve success in a rigid, patriarchal society.
President Park also put great emphasis on the two countries' long-standing relations, going so far back in time, to Silla dynasty (57BC- 935AD) as one of the three kingdoms of ancient Korea, where signs of the Persian dynasty have been found. Most notable of these Persian relics currently held in a Museum in Korea are a dark blue glass found in the Cheonmachong Tomb, one of Silla's royal tombs unearthed in Gyeongju, and a golden sword found in Gyerim-ro, a street also located in Gyeongju, both believed to be sent to Silla from ancient Iran or Persia through the Silk Road.
While trade with Persia was officially recorded in Korean history only during King Hyeonjong's reign (1641-1675), scholars believe that both countries started having cultural exchanges during the 7th century, thus putting more than 1,500 years of relationship between these two civilizations.
"In 1977, South Korea named one of its streets in Seoul 'Tehran', and a street in Tehran was in turn named Seoul. Presently, Tehran Street in Seoul has turned into an important trading center, and I hope the two countries will continue their cultural and friendly cooperation," she said.
She highlighted the role of joint festivals in boosting cultural exchanges and promoting solidarity and unity between the two nations, hoping with good humor to see cooperation among Iranian and Korean filmmakers for co-producing films and TV series.
"We have a myth in an ancient Persian book (The Kushnameh) that tells of a Persian prince who went to Silla in the seventh century and got married with a Korean princess, thus forming a royal marriage." She then said with a laugh, "this is actually quite a good plot for making a film together." Her suggestion was received with a lot of applause.
"There is also another story, a real one, during the Iran-Iraq war. Korean contractor Daelim was in the middle of the Kangan gas refining building project, and even though the contractor lost 10 of its employees in an airstrike by Iraq, it stayed and successfully completed the project," President Park said of Korea's strong adherence to its commitments under agreements.
President Park's visit has been regarded as highly lucrative for both sides. As many as 20 MoUs were sealed between Tehran and Seoul on Monday morning by top-ranking official of the two sides at the presence of both countries' presidents.
Sources indicate that Daelim Industrial is expected to sign a $4.9 billion contract to build a railway to connect Al Wajh and Isfahan, as well as a $2 billion contract to build the Bakhtiari Dam hydroelectric power plant, as early as next week. Following the implementation of the nuclear deal and the removal of sanctions against Iran, the two sides have agreed to expand practical cooperation by mutually complementing each other's economic structure.
But of course, the economic cooperation is just one aspect of the strong bond between Iran and Korea. President Park herself showed keen interest in boosting cultural ties with Iran, and the very nature of the festival she and some 1500 others were attending was a testament to the two countries' awareness of the significance of shared cultural values and joint events in bringing close two lands with more than 6,000 kilometers of geographical distance between them.