Rouhani says Iran is world's reliable partner
May 15, 2016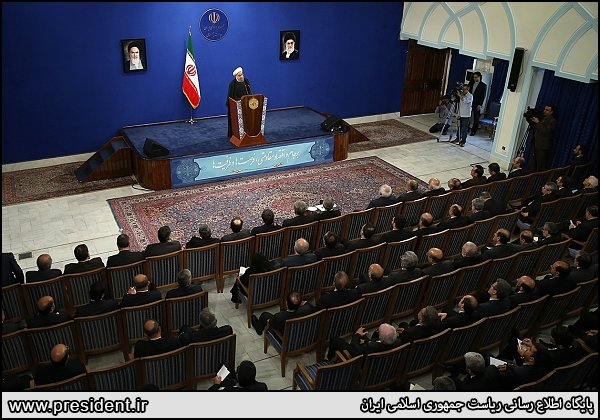 TEHRAN – President Hassan Rouhani told a gathering of Iranian ambassadors that Iran is the international community's reliable partner.
Rouhani called on diplomats to seize the opportunity created by the nuclear deal to introduce to foreign investors Iran's capacities and opportunities and facilitate interactions between private-run businesses at home and abroad.
"Iranian ambassadors outside the country should precisely explain the country's capacities and opportunities to foreign investors," remarked Rouhani, the chief initiator and architect of the nuclear deal with great powers which removed sanctions against Iran in exchange for a limited nuclear program.
Rouhani said constructive interaction with the world was a response to Iranophobia project, adding, "Relations and economic interaction with the world is one way of countering Iranophobia."
Economic flourishing is dependent on competition
Rouhani told ambassadors that pillars of resistance economy are dependent on competition, saying Iran cannot resolve its problems if it cannot compete economically in the world.
"An economy that cannot compete in the international scene cannot resolve its problems in the long run and if in economy we aren't able to compete with the world qualitatively and quantifiably, we will not succeed."
Reducing unemployment is top priority
The president also said reducing unemployment and creating jobs for the youth have been among most important priorities of his administration. He said since he took over as president he was facing economic recession, inflation, and unemployment which through planning succeeded to single digit the inflation.
While regional countries faced a devaluation of their currency due to sharp fall in oil prices, Iran succeeded to prevent currency devaluation, the president went on to say.
PA/AK