Painter Parviz Kalantari dies at 85 
May 22, 2016 - 18:54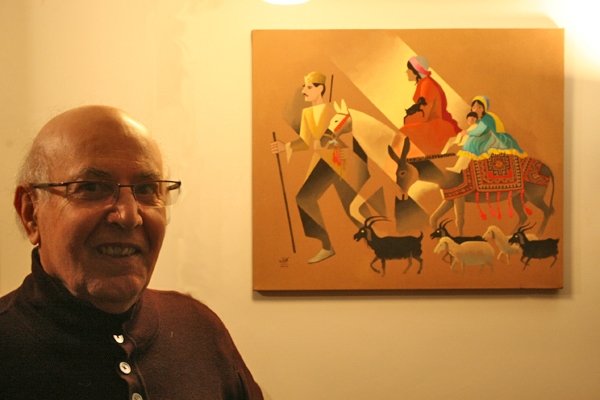 TEHRAN – The diligent artist and illustrator Parviz Kalantari, famous for his indigenous drawings of Iranian nomadic life, died on Friday. He was 85.
"Parviz had a brain stroke more than a year ago (December 2014) and he was suffering from ill health since then," the artist's wife Farah Yusefi told the Persian service of MNA on Saturday.
"He went through very hard days for the past two months. He was unable to eat anything and we were obliged to feed him with a dropper, although even that was hard for him," his wife asserted.
Kalantari was born in 1931 in Zanjan and was a graduate of the Fine Arts Faculty of Tehran University. He was most famous for his illustrations in school texts.
The young artist who had begun with illustrations in the early days of his work, continued to focus on nomadic life in his paintings, making urban dwellers more familiar with those that move to and fro with the change of seasons.
He was from a generation whose main concern was making a bridge between modern paintings and the venerable cultural heritage, which is tradition.
He had made efforts to create new works with today's international language of painting. He believed that tradition was yesterday's language while modernism is the language of today, and that tradition should be expressed in the language of today.
His art had also been exhibited in other countries such as the UK and the USA and were very well received in every case. His artwork entitled "Iranian City" was put on display at the UN office in Nairobi, Kenya in October 2005.
Kalantari had also published several books and articles on art and Iranian artists in different periodicals. The books "Four Narrations" and "Nietzsche No, Just Say Mashd Esmail" are among his noteworthy credits.
His funeral procession will begin today at the Iranian Artists Forum.
Photo: Parviz Kalantari in an undated photo
M/YAW
END