Czech, Austrian duos to perform in Tehran  
May 24, 2016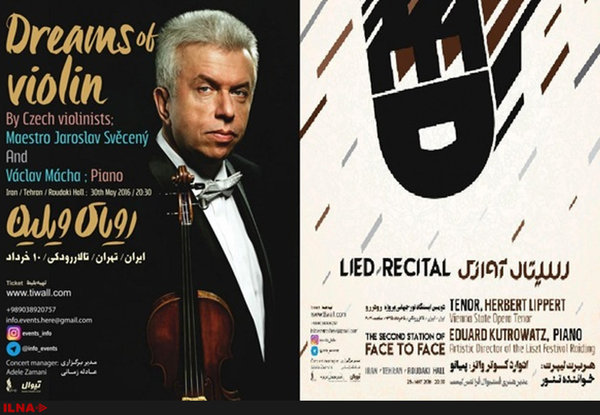 TEHRAN -- Musicians from Czech and Austria will give two separate performances at Rudaki Hall in Tehran.
The first duet by pianist Eduard Kutrowatz and tenor Herbert Lippert from Austria will take place tonight, the Rudaki Foundation announced in a press release on Tuesday.
A repertoire highlighted with pieces by Richard Strauss, Ludwig van Beethoven, Hugo Wolf and several other composers is scheduled to be performed during the program entitled "Face to Face" song-recital.
Kutrowatz and Lippert performed pieces by Franz Schubert with other musicians at the Vienna Museum last Saturday.
The second concert entitled "Dreams of Violin" will be held next week on May 30 by violin virtuoso Jaroslav Sveceny and pianist Vaclav Macha from Czech.
The duo has previously performed in various concerts around the world, including the Lucie Stern Community Center in Palo Alto, California.
MMS/YAW
END