Iran soon to regain its oil market share: Rouhani
May 29, 2016 - 9:55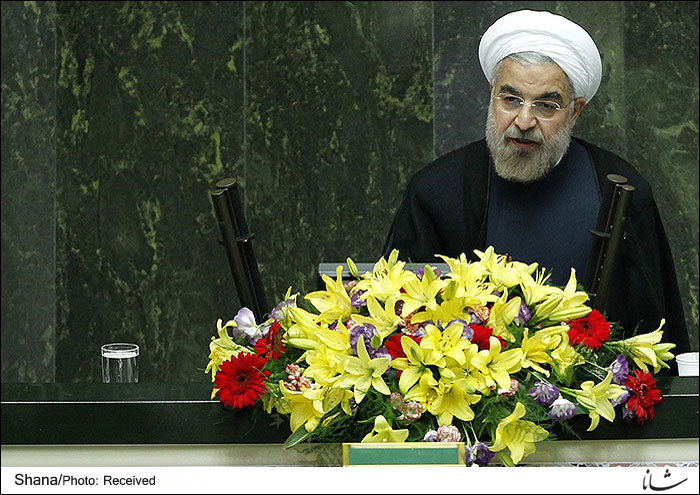 TEHRAN - Iran will retake its pre-sanction oil market share in the near future, Shana quoted President Hassan Rouhani as saying on Saturday.
The president made the remarks in the inauguration ceremony held Saturday morning for the start of new Iranian parliament.
In the event, Rouhani noted that during the past four years Iran lost $180 million of its oil revenues per day because of the sanctions,
"If we had those financial resources, which we lost due to the sanctions, we could have had a better employment condition and higher economic growth today", he added.
Western sanctions cut Iran's oil output to 2.7 million barrels per day (bpd) from 3.9 million bpd. The sanctions barred foreign investments in the Iranian oil industry and also limited a low ceiling of 1 million bpd on the country's oil exports.
On May 4, National Iranian Oil Company Managing Director Rokneddin Javadi said that Iran's oil output now stands at 3.7 million bpd, stressing that the country has already been able to return its oil production to pre-sanctions levels.
'5% economic growth planned for this year'
Touching upon the economic stability over the past three years, the president said, "We managed to pass through harsh economic conditions with double-digit inflation and negative growth rates and we hope to reach a single-digit inflation rate this year."
Rouhani also noted that the country's economic growth was three percent in the Iranian calendar year of 1393 (March 2014- March 2015) and one percent in its next year, adding," Iran will reach a five percent growth this year and we will do everything in our power to make sure this goal is achieved."
Iran's economic growth is forecasted to grow by 4 percent in 2016 and by 3.7 percent in 2017, according to the April 2016 report of the International Monetary Fund (IMF).
The World Bank has also forecasted Iran's gross domestic product (GDP) to grow by 5.8 percent in 2016 and by 6.7 percent in 2017.
The IMF has also predicted Iran's average economic growth by 2021 at 4 percent.
EF/MA