Iran dismisses consultation with U.S. on Syria
September 14, 2016 - 15:25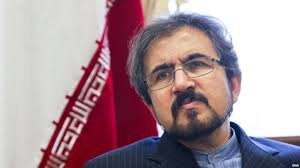 TEHRAN – The Iranian Foreign Ministry on Tuesday categorically rejected any consultation between Iran and the U.S. on regional issues including the Syrian conflict.
"The Islamic Republic of Iran and the U.S. have had and will not have any contact, consultation and talk on the regional issues," ministry spokesman Bahram Qassemi said.
Qassemi's comments came in response to claims of contact between Iranian Foreign Minister Mohammad Javad Zarif and his U.S. counterpart John Kerry on the Syrian ceasefire.
The Syrian government approved a truce in Syria on Monday which was brokered by the U.S. and Russia.
According to Reuters, twenty-four hours after the truce took effect, UN Special Envoy for Syria Staffan de Mistura declared the situation had improved dramatically, saying UN aid access should be possible soon including to eastern Aleppo, the rebel-held half of the city that is under blockade.
The Syrian Observatory for Human Rights said it had not received a single report of combatants or civilians killed by fighting in any areas covered by the truce.
NA/PA