By Marjan Golpira 
No agreement on Syria without Iran: Foreign Ministry 
September 27, 2016 - 9:46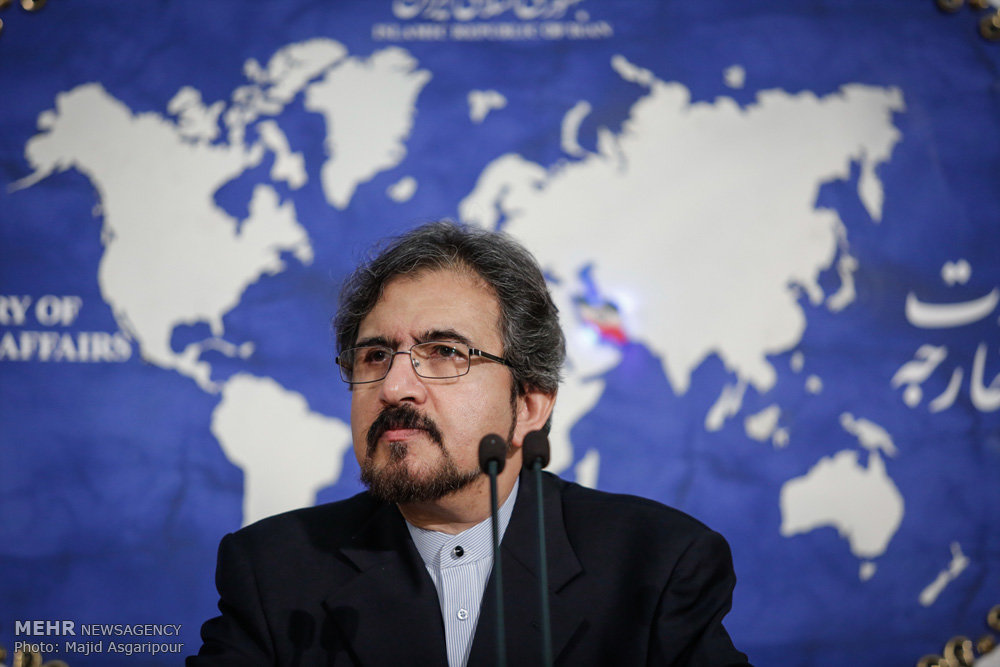 TEHRAN – The Iranian Foreign Ministry said on Monday that no agreement on Syria will succeed without Tehran's partnership, insisting that there is no military solution to the Syrian conflict.  
Foreign Ministry spokesman Bahram Qassemi also said the ceasefire in Syria had been merely "a tactic to buy time for terrorists and provide them with arms and logistics".
Under such conditions, a truce would be abortive, Qassemi said.
He also dismissed allegations by Saudi Arabia and some other Arab countries in Persian Gulf region that Iran is interfering in Yemen, calling them "irrelevant" and "propagandistic."
"Saudi Arabia plays a destructive role in the region and we hope they get a lesson from Saddam Hussein and not follow in his footsteps."
Qassemi said Saudi Arabia itself has trespassed the international borders of Yemen as a sovereign nation and is killing innocent people there.
Saudi Arabia has been incessantly pounding Yemen since March 2015, with the UN putting the toll at 10,000. The offensive was launched to reinstate former president Abd Rabbuh Mansur Hadi and undermine Ansarullah.
Qassemi said the Saudi government is playing the blame game for its defeat in Yemen and trying to find a way to justify its acts in the country.
A new chapter with Canada can open up
He also said in case Iran and Canada resolve their differences in the next few months, a new chapter will open up in their relationship.
"A consulate in Canada is highly valuable to Iran" as many Iranian emigrants live in that country, he said, adding Canada also seeks to reopen its embassy in Tehran.
In 2012, Ottawa closed its embassy in Tehran for yet unspecified reasons.
On U.S. President Barak Obama vetoing a bill that could allow family members of 9/11 victims to sue the Saudi government, Qassemi said this shows that the U.S. employs a series of double standards.
On the reason behind Obama rejecting the bill, the NPR, National Public Radio, wrote, "… The Saudis vehemently oppose the Justice Against Sponsors of Terrorism Act, or JASTA. The Saudis have threatened to dump hundreds of billions of dollars in U.S. assets that could possibly be frozen by any American judge hearing a lawsuit. Lawmakers from both parties have chosen the interests of the Sept. 11 families seeking justice over those of the House of Saud."
Fifteen out of the nineteen of the attackers involved in September 11 terror attacks were Saudi nationals.
Foreign Ministry calls on UAE to stop 'unsubstantiated' remarks
On UAE ownership claims over the three Iranian islands of Abu Musa and Greater and Lesser Tunbs in the Persian Gulf, Qassemi called on the UAE to stop making "unsubstantiated" claims.
"The islands are an integral part of Iran's soil over which no country can make ownership claims."