Malaysian firms invited to Iran's energy, industrial projects
October 8, 2016 - 18:28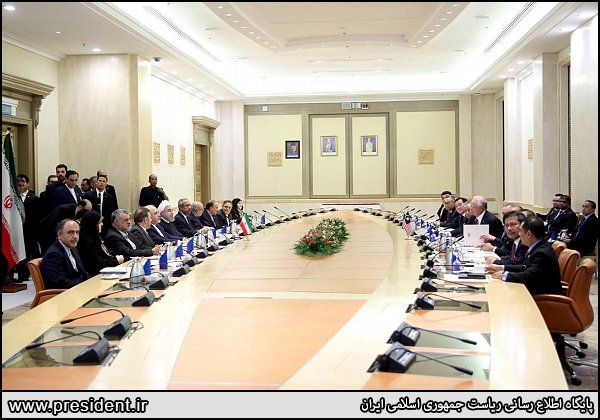 TEHRAN – Malaysian firms are invited to participate in Iran's energy and industrial projects, Iranian President Hassan Rouhani said.
In a meeting with Malaysian Prime Minister Datuk Seri Najib Razak, Rouhani stated that the post-sanctions era is a great opportunity for Malaysian companies to boost presence in Iran, Shana news agency reported.
During the meeting which was held in Kuala Lumpur on Friday, the Iranian president stressed the need to revive banking relations as the stimulus for enhancing economic collaboration between the two countries.
He also underscored the potentials and capabilities of Iranian companies in various sectors including construction, energy, and modern technologies, and said the two countries can cooperate in such areas.
Najib Razak for his part expressed his country's interest in cooperation with Iran in all areas and said the two governments should try to increase the bilateral trade to the pre-sanctions level.
"Since banking relations are the key element in trade cooperation we hope for the hurdles in this regard to be removed very soon," he noted.
'Iran-Malaysia trade anticipated to quintuple in 2 years'
Meanwhile, in an interview with IRNA on Friday, Iranian Communications and Information Technology Minister Mahmoud Vaezi, who is also the co-chairman of Iran-Malaysia Joint Economic Committee, said that with oil and petrochemical products added to the equation, it is expected that the value of trade between the two sides will increase five-fold over the next two years.
Referring to his talks with Mustapa Mohamed, Malaysia's minister of international trade and industry who is also Iran-Malaysia Joint Economic Committee's new co-chairman, Vaezi said bilateral trade relations were very good but fell short due to the unjust sanctions over the past years.
He went on saying "The two countries' joint economic committee meeting has not been held since 2008 and it has caused bilateral trade value of $1.5 billion in 2013 to fall to $500 million in 2016."
Further in his remarks the official noted that Malaysia's minister of international trade and industry is due to visit Iran within the next two weeks and he will be accompanied by a high-ranking trade delegation.
"30 Malaysian representatives and managers of large companies in various sectors will be accompanying the minister and this could be a new beginning to the further development of bilateral cooperation," he said.
EF/MA/MG