Iran: Saudi rulers must be taken to court for war crime in Yemen
October 9, 2016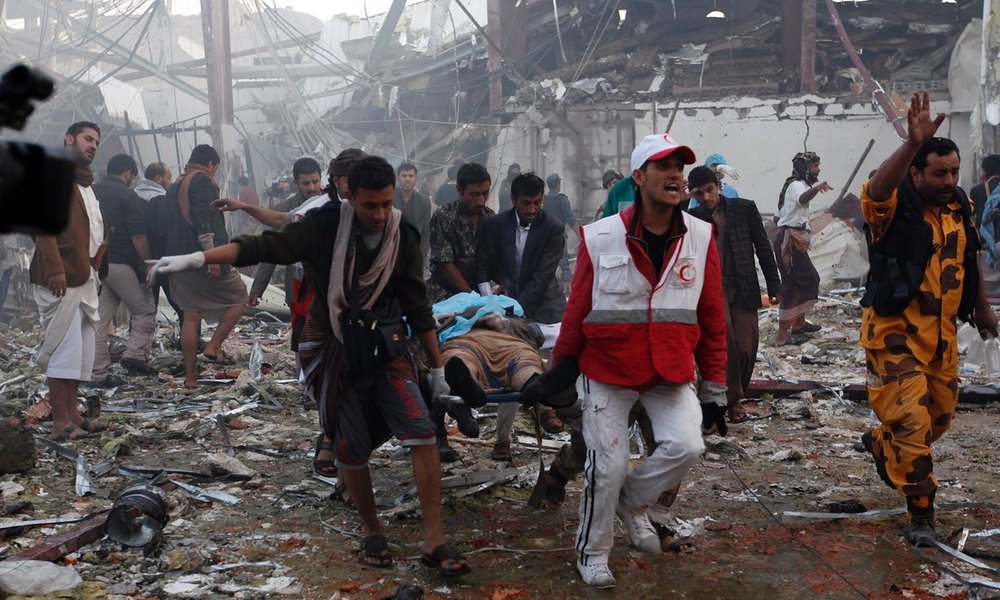 TEHRAN – The Saudi airstrikes on Yemen which left hundreds dead or injured on Saturday have drawn strong criticism from the Islamic Republic.
A few hours after news of the attack surfaced, Iran's Defense Minister Hossein Dehqan said Saudi rulers are "war criminals and should be put on trial."
"They have committed an unpardonable crime which should not go unnoticed by the world," Dehqan said on Sunday. "Whoever keeps silent against the barbarity will have assisted the Al Saud with the crime."
More than 155 people were killed and more than 525 wounded when airstrikes hit a funeral ceremony in Yemen's capital, Sana'a, the latest in a series of calamitous Saudi-led attacks on Yemen.
In the aftermath of the strike on Saturday, hundreds of body parts were found strewn in and outside the hall. Rescuers collected them in sacks.
The Houthi-controlled news site sabanews.net said, "Dozens of citizens fell as martyrs or were wounded in this attack by planes of the Saudi-American aggression."
Ali Shamkhani, the secretary of Iran's Supreme National Security Council, also denounced Washington's role in the Saudi airstrike, saying U.S. weapons were used in the attack.
The Yemeni people at the funeral ceremony were bombed with American weapons delivered to the "aggressive Saudi army", Shamkhani said in a statement on Sunday, stressing that the U.S. is an "accomplice" in the crime and should be held accountable for it.
"Sales of arms to Saudi Arabia and the (United Arab) Emirates play a key factor in the military aggression against Yemen and the killing of innocent Yemenis, and the West should stop it," the top security official noted.
He added the Western public opinion should realize what role their governments are playing in the continuation of the war on Yemen.
Iranian Foreign Ministry spokesman Bahram Qassemi also said on Saturday that the international community is still keeping silent on Saudi military aggression and the killing of Yemenis for one and a half year.
"In order to put an end to the fabricated crisis in Yemen, there is no way but to stop the belligerent nature of the brutal Al Saud aggressors and begin serious dialogue with the participation of all Yemeni sides," the spokesperson pointed out.
He expressed Iran's disgust over such an inhumane and heinous crime and sympathized with the families of the victims.
SP/PA