Rouhani nominates three new ministers
October 23, 2016 - 20:57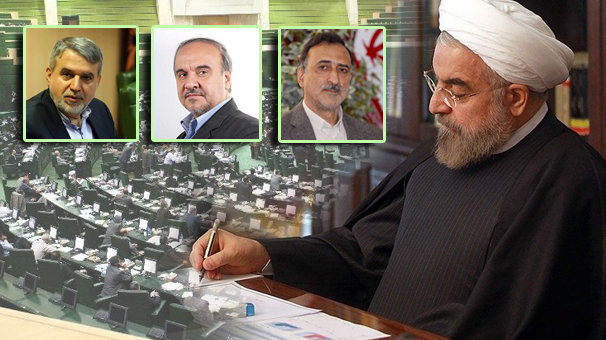 TEHRAN – In a letter to the Majlis speaker released to the media on Sunday President Hassan Rouhani nominated three persons for the post of culture, education and sports ministers.
Rouhani nominated Reza Salehi Amiri as minister of culture and Islamic guidance, Fakhrodin Ahmadi Danesh Ashtiani as education minister, and Masoud Soltanifar as sports and youth minister.
Salehi Amiri, the current chairman of the National Library and Archives of Iran (NLAI) and cultural advisor to the president, has taken over as caretaker education minister since Ali Asghar Fani left the ministry.
Soltanifar, who currently presides over the Cultural Heritage, Tourism, and Handicraft Organization, was Rouhani's first choice for the post of sports minister when he was elected president in 2013, however he failed to garner enough parliamentary votes.
The makeup of the parliament has changed since 2013 as more moderate persons have won seats in the Majlis.
Danesh Ashtiani, a graduate of Imperial College London, is a professor at the University of Khaje Nsair. He was also proposed as science minister in 2013 but was rejected by the parliament.
He had served in different responsibilities including deputy director for planning and development in the Science Ministry.
The cabinet reshuffle has been welcomed by lawmakers including Mohammad Reza Aref, a moderate reformist who leads the Hope faction in parliament.
According to unconfirmed reports Rouhani dismissed Education Minister Fani and Sports and Youth Minister Mahmoud Goudarzi for their weak performance, but was forced to accept the resignation of culture minister
Jannai had come under pressure by some fierce opponents of the government's cultural policies.
In his resignation letter to Rouhani, Jannati said pressure against the government will increase as the presidential election is approaching.
Before the dismissal or resignation of education minister a motion was circulating among MPs to impeach Fani.
On Saturday, Rouhani launched a strong defense of his cabinet reshuffle and called on media outlets to put aside what he called "childish quarrels."
"The country's goal is development and transcendence, and the government's goal is to be at the service of the society and people. To achieve the goal, sometimes a manager has to be kept and sometimes changed," he pointed out.
PA/PA