Aleppo residents celebrate full liberation from militants
December 13, 2016 - 17:8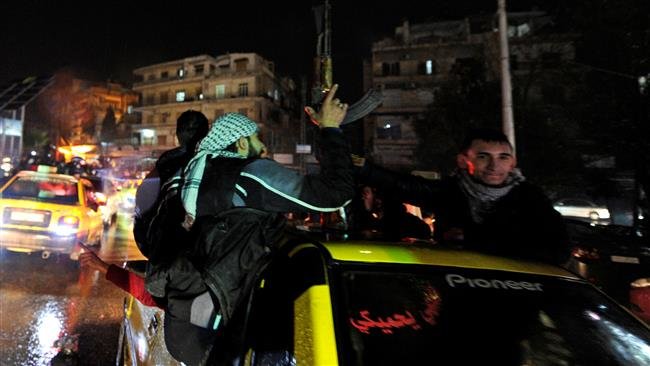 The residents of Aleppo have taken to the Syrian city's streets to celebrate the imminent official announcement of the city's full liberation from militants.
According to Syrian army officials on Monday, 99 percent of the formerly occupied regions of the city have been recovered by government forces, adding that the army is in the "last moments before declaring victory."
"The battle in eastern Aleppo should end quickly. They (militants) don't have much time. They either have to surrender or die," said Lieutenant General Zaid al-Saleh, the director of the government's Aleppo security committee.
Earlier, the so-called Syrian Observatory for Human Rights said the battle to liberate the city had reached its end and that government forces were making their final advances into the militant-held parts of the city. "The battle of Aleppo has reached its end. It is just a matter of a small period of time, no more, no less...," said the group's director, Rami Abdulrahman.
He noted that the militants have now withdrawn from the last six neighborhoods they were using as hideouts in the city.
(Source: SANA)