Zarif expresses full support for Russia in terror fight
December 20, 2016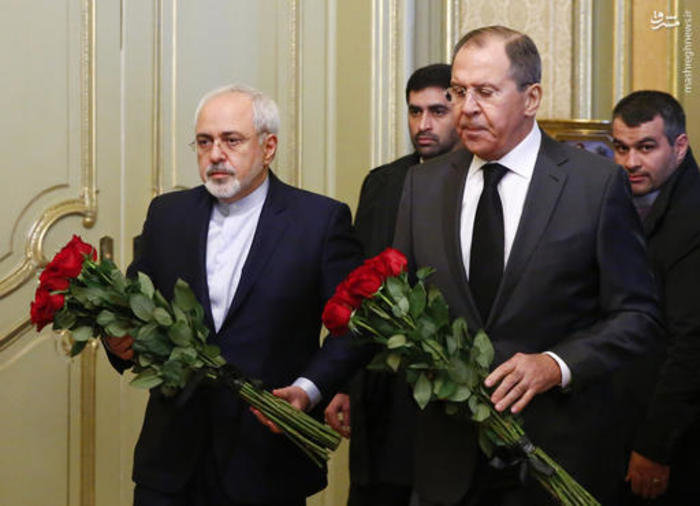 TEHRAN – Foreign Minister Mohammad Javad Zarif has said that the Iranian government and people will back Russia in fighting terrorism, ISNA reported.
Zarif made the remarks during a meeting with his Russian counterpart Sergey Lavrov in Moscow on Tuesday, a day after the Russian ambassador to Turkey was shot dead by a gunman in Ankara, where he was attending a photo exhibition.
He expressed his condolences to the family of the ambassador as well as the Russian government and nation, saying, "Yesterday (Monday), we witnessed three gruesome scenes, all of which originated from one group."
Zarif was pointing to the assassination of the Russian ambassador to Turkey, a truck crash into a Christmas market in Berlin, and a gun attack on three people attending prayers in Zurich.
The Iranian foreign minister noted that terrorism is not limited to a particular time or place, adding that the entire world needs to fight terrorism.
"We do not see any justification for acts of terror and for [the existence of] terrorist groups," Zarif remarked.
"All countries should come to the conclusion – as Iran and Russia did – that supporting terrorists is never justified, not even for short-term goals," the chief diplomat noted.
Zarif further called on the states that support terrorism to once and for all understand the catastrophic dimensions of such behavior.
Calling Iran and Russia the frontrunners in fighting terrorism, the minister said, "We're happy that this cooperation has been successful and has paved the way for humanitarian aid to the Syrian people."
Zarif described the bilateral meeting with his Russian counterpart as productive, and expressed satisfaction over the expansion of bilateral relations.
Lavrov, for his part, said the assassination of his country's ambassador in Ankara will strengthen Moscow's resolve in fighting terrorism, adding such fight should be "uncompromising" and "tough".
"If the organizers of the attack pursued the goal to derail the fight against terrorism in general, and our meeting today in particular, they did not succeed, and will not succeed," Lavrov was quoted by Sputnik as saying.
MH/PA