Turkey summons Dutch envoy over Rotterdam police action
March 13, 2017 - 20:52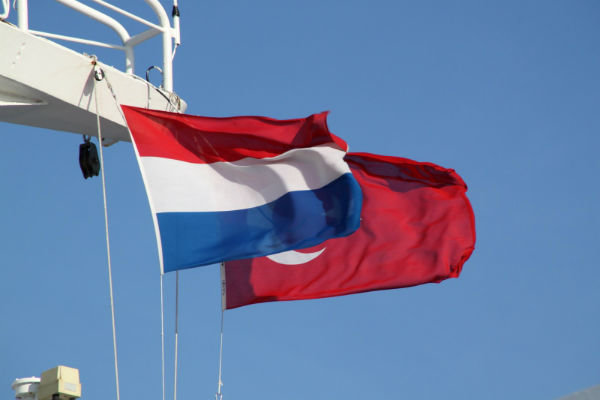 Turkey summoned the Dutch envoy in Ankara to complain about the actions of Rotterdam police against Turkish protesters over the weekend as a row over Ankara's political campaigning abroad widened.
The Dutch Embassy's charge d'affaires, Daan Feddo Huisinga, was called on Monday to the Foreign Ministry where a senior official handed him two formal protest notes.
In the note, the Turkish Foreign Ministry condemned what it said were practices contrary to international conventions and diplomatic courtesy and immunities, and requested a written apology from the Dutch authorities.
Turkey also reserved its right to seek compensation, the Dutch diplomat was told.
The second note protested the treatment of Turkish citizens who had gathered outside the Turkish Consulate in Rotterdam, saying "disproportionate force" had been used against "people using their right to peaceful gatherings".
"The Turkish community and our citizens were subject to bad treatment, with inhumane and humiliating methods used in disproportionate intervention against people exercising their right to peaceful assembly," a statement attributed to ministry sources said.
It was the third time the Dutch charge d'affaires was summoned since Saturday over the row.
The Dutch ambassador is on leave and the Turkish foreign ministry has said it does not want him to return "for some time".
On Sunday night, Dutch riot police were called in to end a protest by Turks in Amsterdam and arrested 13 people.
Turkish leaders continue verbal assault on the Netherlands
Meantime, Turkish leaders continued their verbal assault on the Netherlands on Sunday. Turkish President Recep Tayyip Erdogan said on Sunday at a rally in Istanbul that it was appropriate to accuse the Dutch government of "Nazism and fascism" because "only those types of regimes would bar foreign ministers from travelling within their countries".
Erdogan vowed to retaliate against the Netherlands after claiming that "Nazism is alive in the West." Dutch officials have condemned the statements.
He has warned that the Netherlands will "pay the price" for its "shameless" treatment of Turkey's ministers.
Foreign Minister Mevlut Cavusoglu accused his NATO (North Atlantic Treaty Organization) ally of being "the capital of fascism".
Cavusoglu made the comments in France where he spoke to whip up support among Turkish immigrants for constitutional reforms to expand the powers of the Turkish presidency
Netherlands issues Turkey travel warning
As the tensions escalated, the Netherlands issued a new travel warning for Turkey, urging Dutch citizens there to take care.
"Since March 11, 2017, there have been diplomatic tensions between Turkey and the Netherlands. Stay alert across the whole of Turkey and avoid gatherings and crowded places," the Foreign Ministry said on Monday.
It warned that there was a safety risk in traveling to Turkey, advising citizens to register with the ministry ahead of travel.
"Across the whole country, there is a high risk of terrorist attacks," the ministry noted, particularly warning against travel to areas bordering Syria and Iraq.
Germany: No future 'free pass' for Turkish politicians
Meantime, German Chancellor Angela Merkel's chief of staff said on Monday that while his country has not issued a ban on campaign appearances by Turkish politicians, that isn't a "free pass" for the future.
"So far, in the last 60 years of our history, we repeatedly refrained from such entry bans for countries such as, for example, the Soviet Union, China and others with whom we were in the Cold War," Merkel's chief of staff, Peter Altmaier, said.
However, he noted that "This is not a free pass for the future."
Several German municipalities canceled rallies by Turkish ministers campaigning for a "yes" vote in the April referendum.
German Finance Minister Wolfgang Schaeuble said that the dispute with Turkey over the campaign for the referendum and the arrest of a German-Turkish journalist made working on economic aid difficult.
"In these circumstances, it is of course extremely difficult to continue working on that," Schaeuble told Germany's ZDF public broadcaster.
"We don't want to escalate it. We only want Turkey to return to reason," he added.
Denmark, France back EU ally
Meanwhile, Denmark's Prime Minister Lars Lokke Rasmussen proposed on Sunday postponing a planned visit by Turkey's Prime Minister Binali Yilderim this month because of the diplomatic row between Turkey and the Netherlands.
France urged Turkey and several EU member states to calm tensions.
NATO head calls on Turkey, Netherlands to defuse row
Elsewhere, NATO head Jens Stoltenberg on Monday called on two of the alliance's members, Turkey and the Netherlands, to defuse their escalating dispute.
"Robust debate is at the heart of our democracies but so is mutual respect," Stoltenberg said. "I would encourage all allies to show mutual respect, to be calm and have a measured approach."
"To contribute to deescalate the tensions, defuse tensions and deescalate the situation, it's important that we now focus on everything that unites us."
EU slaps down 'excessive' Turkey in Erdogan Nazi row
The development followed as the European Union urged Turkey on Monday to avoid "excessive statements" and actions that could increase tensions, in a row with the Netherlands and Germany over the blocking of rallies by Turkish ministers.
Brussels also said it was up to Berlin and The Hague to decide whether to allow Turkish politicians into the country to try to win support for plans to expand the powers of President Recep Tayyip Erdogan.
Erdogan at the weekend twice accused the Netherlands of acting like the Nazis, comments that sparked outrage in a country bombed and occupied by German forces in World War II.
"The European Union calls on Turkey to refrain from excessive statements and actions that risk further exacerbating the situation," EU Foreign Policy Chief Federica Mogherini and EU Enlargement Commissioner Johannes Hahn said in a statement.
"Following the tensions of these last days between Turkey and some EU member states, it is essential to avoid further escalation and find ways to calm down the situation," it added.
"Decisions with regard to the holding of meetings and rallies in member states are a matter for the member state concerned, in accordance with the applicable provisions of international and national law."
The European Commission said it would "continue to provide our good offices in the interest of EU-Turkey relations."
No sign of EU retreat, decisive game for Turkey
The Turkish government has sought to hold campaign rallies in European countries to appeal for Turkish diaspora votes to help secure victory in a referendum next month that would grant President Erdogan sweeping executive powers.
In the run-up to a general election next week in the Netherlands, the Dutch government cited security and public order concerns over a proposed Turkish rally and withdrew landing rights for the Turkey's foreign minister Cavusoglu.
The Dutch authorities later prevented Fatma Betul Sayan Kaya, Turkey's family minister, from entering the Turkish consulate in Rotterdam, before escorting her out of the country to Germany.
The crisis with the Netherlands is the most serious yet as tensions spiral between Turkey and its EU allies over the desire of top Turkish officials to hold rallies abroad ahead of the April 16 referendum on a new constitution that would give Erdogan greater powers.
The Netherlands is home to some 400,000 people of Turkish origin, and Ankara is keen to harness their votes.
The diplomatic fight also comes at a tough time in the Netherlands, which has national elections on Wednesday, and where issues of Dutch identity and relations with migrant communities and Islam have taken center stage.
In a neck-and-neck race, the parties of either Rutte or populist firebrand Geert Wilders could end up with the most votes.
Rutte said it was important for his government not to bow to Turkish pressure, especially, he said, after Ankara threatened sanctions if the Dutch kept its ministers out.
(Source: agencies)