By Mohammad Hashemi
Reasons behind Turkey-EU diplomatic spat?
March 15, 2017 - 22:10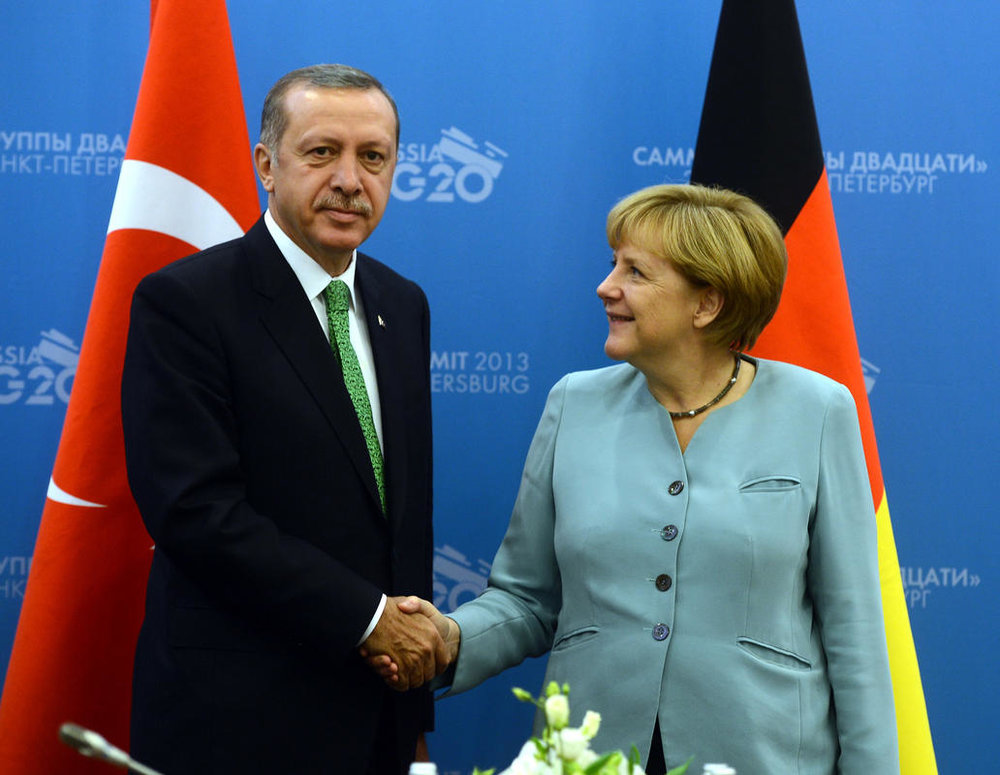 Turkey's relations with the European Union may have taken a fatal blow this month, after attempts by Turkish ministers to hold political campaign rallies for April 16 crucial referendum have been blocked in Germany, Austria, Switzerland and the Netherlands.
The crisis took unprecedented turn when late on Monday Turkey announced the Dutch ambassador would be barred from returning to Ankara and that Turkey suspends high-level diplomatic relations with the Netherlands.
Just days before, Turkey's President Recep Tayyip Erdogan had accused the Dutch and Germans of Nazism. On Monday also, Erdogan accused German Chancellor Angela Merkel of "supporting terrorists". The accusations were described by Merkel's spokesperson as "clearly absurd". The spokesperson further added, "The chancellor has no intention of taking part in a game of provocation."
Since the beginning of the diplomatic crisis in early March, unlike the Netherlands and Austria, Berlin has tried to avoid an escalation. The federal government in Germany has even tried to distance itself from the decision of state governments for blocking Turkish campaign rallies. However, growing public and media pressure forced Thomas De Maizière, the interior minister who is from Merkel's ruling CDU party, to say that "Turkey's referendum campaign has no place in Germany".
De Maiziere also said while he is opposed to such appearances, the question of whether to impose an outright entry ban for Turkish officials requires careful consideration. Separately, Finance Minister Wolfgang Schaeuble (CDU) criticized Turkey on the same day and warned such stance could damage bilateral economic ties. In January, Germany was the No. 1 export destination for Turkey, accounting for 10% of all Turkish exports.
Moreover, the European Union on Monday warned Erdogan to avoid inflammatory rhetoric. Earlier on Sunday the EU put on hold some of the EU integration funding for Turkey.
Diplomatic Spat aimed to win elections
On the one hand, by holding rallies in Germany and elsewhere the Turkish authorities wanted to inspire eligible voters outside the country who are mostly supporting Erdogan's party AKP party and guarantee the highest number of "yes" votes on a constitutional amendment proposal seeking to grant greater powers to president.
Analysts believe cancelling poll rallies have given Erdogan a boost by provoking anti-EU sentiments among Turks both inside and outside the country and to mobilize nationalist voters. In fact both scenarios are seen as a win-win scenario for the ruling AKP party in Turkey.
On the other hand, there is adequate evidence to suggest that the European countries were also seeking their own short term political aims by cancelling those rallies.
In Europe, there has been rising fear of the growing popularity of radical right populist politicians that are strongly opposed to Turkey's allegedly political Islamist leadership and closer ties between Turkey and the EU. That's why most mainstream parties in these countries do not want to hand the populists an extra argument by strengthening EU-Turkey relations in the face of elections in the Netherlands, France and Germany.
According to a survey by German broadcaster ZDF %83 of Germans were against Turkish campaign rallies while only %15 voted in favor of such conventions. That could be one reason why Germany didn't want such rallies take place in the first place.
In the Netherlands, people go to the polls today for a parliamentary election and analysts say the decision to bar Turkish ministers from entering the country was a show of strength on the part of government against anti-Islam populist Geert Wilders who has been running neck-and neck with Prime Minister Mark Rutte in the surveys.
EU-Turkey refugee deal
Turkey that is home to just under 3 million refugees, had agreed in 2016 to prevent a further wave of migration to Germany in return for €6bn in aid, visa-free travel to the EU and accelerating Ankara's EU accession talks.
With less than seven months up to the parliamentary elections in Germany, critics say Merkel has been conspicuously submissive in her approach to Erdogan for fear of him scrapping the refugee deal and thus destroying chances of her reelection. Some even believe there is a link to Berlin's reported decision to ban symbols used by Kurdish political and military groups, including the flag of YPG militia in Syria as well as a portrait of an outlawed Kurdish party leader.
Although Turkish officials have complained that the EU has not fulfilled its obligations regarding the refugee agreement, there are fears in Berlin that Erdogan might increase the pressure on the chancellor, by once more threatening to scrap the deal.
Turkey's EU Affairs Minister Omer Celik has already threatened that Ankara should reconsider part of its deal to keep migrants out of the European Union.
Following the latest diplomatic crisis, mainstream German media have run articles about how Ankara has shackled Merkel's policies towards Turkey by playing the card of scrapping the refugee deal. Other media have even called Erdogan a "blackmailer".
Turkey EU accession bid
Although the European parliament voted symbolically for a temporary freeze on EU accession talks with Turkey in November last year after a failed military coup in July, Most analysts agree that neither Turkey nor the EU is willing to pull the plug completely on the accession negotiations that started in 2005. There is simply too much at stake, economically and strategically. So despite the latest unprecedented diplomatic crisis, the EU still remains the most important trade partner for Turkey. Over 60 percent of all direct investments in the country come from the EU. And with Turkey's declining economy Turkey needs Europe more than ever. Before the current tensions, Turkish president already knew that accession is not on the cards anymore at least for another decade if ever. For now at least his strategy is to secure as much as "yes" vote for April referendum.