By Ali Kushki
Military chief says Iran won't give in to U.S. 
April 4, 2017 - 19:44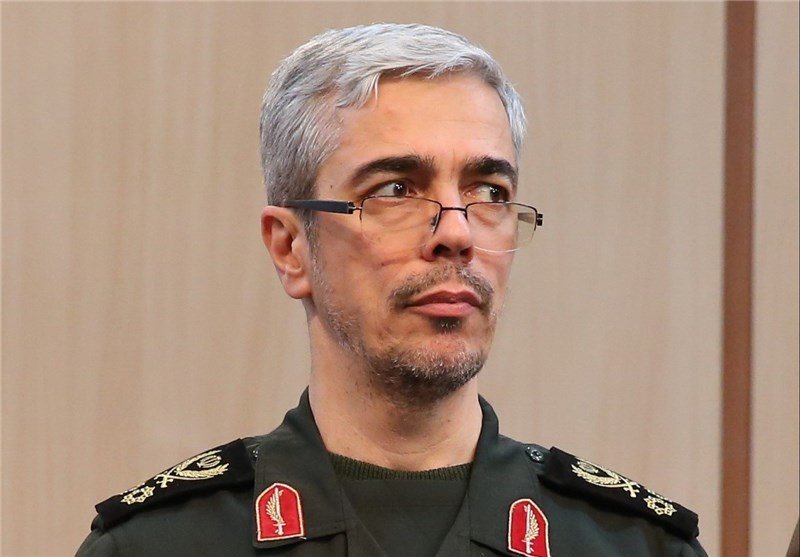 TEHRAN – A top Iranian military official has said his country won't surrender to the U.S. days after a top American military official made military threats against Iran. 
In a New Year speech in Tehran on Tuesday, Major General Mohammad Bagheri, the chief-of-staff of Iran's armed forces, said, "We won't give in to pressures, propaganda war and psychological operations of the U.S. and its allies. We have the upper hand in countering them."
Tensions between Tehran and Washington have risen under the Trump administration, an end to a less strained era during the presidency of Barack Obama who championed an international nuclear deal with Tehran.
The comments come after a series of vehement exchanges between senior military officials of the sides.
Late March, U.S. Army General Joseph Votel branded Iran as "the greatest long-term threat to stability" in the Middle East.
Votel, who heads the U.S. Central Command (CENTCOM), made the hostile remarks while speaking before the House Armed Services Committee.
"We need to look at opportunities where we can disrupt [Iran] through military means or other means their activities," he said.
"We need to look at opportunities where we can expose and hold them accountable for the things that they are doing."
Responding to the remarks, Iranian Defense Minister Hossein Dehghan called on the U.S. to leave the Persian Gulf region and stop harassment of Iran.
In a separate development, U.S. Defense Secretary James Mattis said on Friday in London that Iran is continuing to behave as an exporter of terrorism and still sponsors militant activity.
Asked about his comments made in 2012 that the three primary threats the United States faced were "Iran, Iran, Iran," Mattis told reporters that Iran's behavior had not changed in the years since.
Iran, while rejecting the allegations, said that the main source was U.S. ally Saudi Arabia.
"Some countries led by America are determined to ignore the main source of Takfiri-Wahhabi terrorism and extremism," foreign ministry spokesman Bahram Ghasemi was quoted as saying.
"Giving a wrong address when referring to the roots and the financial and ideological resources of terrorism is a main reason for a lack of success by international anti-terror efforts," Ghasemi added.
Earlier in February, an Islamic Revolutionary Guards Corps commander threatened that Iran would use its missiles if its security comes under threat, saying, "Our roaring missiles will fall on their heads."
However, on Monday Iran's Foreign Minister Mohammad Javad Zarif noted his country will not give the Trump administration any pretext that can be used against it.
AK/PA