Rouhani reassures Assad of Iran's support
April 9, 2017 - 21:10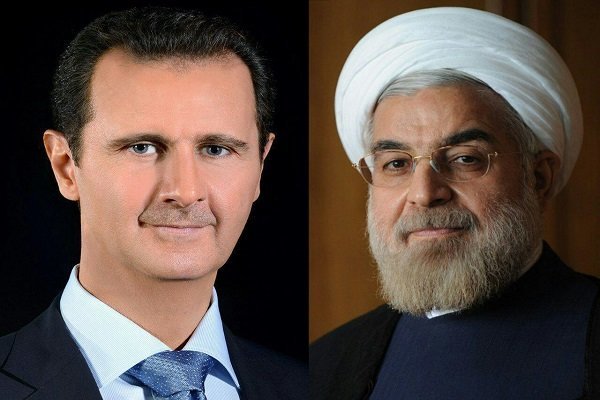 TEHRAN – Iranian President Hassan Rouhani said on Sunday that the Iranian people will stand beside the Syrians in fighting terrorism and maintaining the country's territorial integrity.
In a phone conversation with Syrian President Bashar al-Assad, Rouhani said that the U.S. airstrike against Syria was a violation of international law and the UN Charter.
"Such attacks will just embolden the terrorists who have faced heavy defeats in Syria and Iraq during recent months," he said, describing the U.S. attack as a move against interests of Syria.
"We are sure that such attacks which are in line with harming the process of Syrian-Syrian peace talks will have no effect on fight against terrorism and the future of Syria," Rouhani remarked.
A suspected chemical attack in the northern Syrian province of Idlib on Tuesday left at least 80 people killed and hundreds injured.
Russia said on Wednesday that the chemical attack was caused when rebel chemical munitions workshops were hit by a Syrian airstrike.
On Friday, the U.S. launched cruise missiles at the Shayrat airfield from which President Donald Trump claimed a chemical weapons attack had been launched.
Rouhani said, "Using chemical weapons, which is an unforgivable crime, was to divert the public opinion from the realities. The terrorists should not be allowed to take actions contrary to the international law by using these [chemical] weapons."
"Those who think that they can change Syria's future through supporting the terrorists are very mistaken," he added.
Elsewhere, the president said that more coordination among Iran, Syria and Russia can be very effective in fighting terrorism.
Assad praised Iran's supports for Syria.
He also said that the U.S. missile airstrikes were an effort to dispirit the Syrian people and Army and to embolden the terrorists.
"These attacks will have no effect on the spirit of the Syrian people in defending their territorial integrity and driving out the terrorists, but rather have made us more determined to completely defeat terrorist," the Syrian president asserted.
Also, senior Iranian military officials held phone conversations with their Syrian counterparts on the surprise missile onslaught.
Russia and Iran will stand beside the Syrian nation and government, National Security Council Secretary Ali Shamkhani told Syrian security chief Ali Mamlouk on phone.
"We consider the act (the missile attack) an open invasion of an independent and free country," Major General Mohammad Bagheri, the chief of staff of the Iranian armed forces, said in a phone call with his Syrian counterpart Ali Ayoub.
Bagheri also reiterated Tehran's continued backing for Damascus, saying, 'It's an honor for Iran to back the resistance front and Syrian worriers against takfiri terrorists."
For his part, Ayoub hailed Iran's stance on the Syrian crisis as "logical, conscious, and based on deep understanding."
NA/PA