Iran Air secures final contract for purchase of 20 turboprops with ATR
April 15, 2017 - 9:22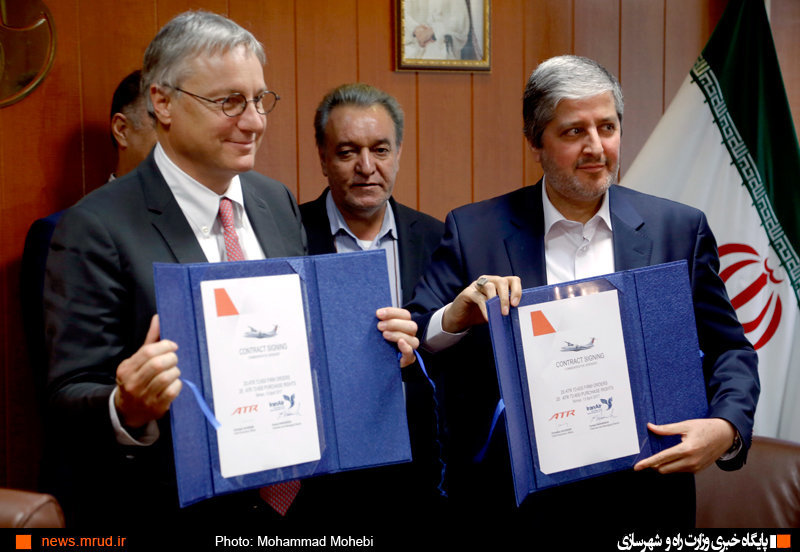 TEHRAN- Iran's national flag carrier, Iran Air, signed a final contact with French-Italian aircraft manufacturer ATR for purchasing 20 turboprop passenger planes on Thursday, IRNA reported.
The agreement was signed in Tehran between the Managing Director of Iran Air Farhad Parvaresh and the CEO of ATR Christian Scherer.
Four of the accorded 70-seat ATRs will be delivered to Iran within a month and five ones of them will be received by 2017 yearend, Parvaresh said, the rest will arrive by the end of 2018.
Iran Air plans to purchase 20 other airplanes in future, he added.
As Parvaresh informed, ATR has vowed to assist Iran with training pilots and providing technical services, too.
Jointly owned by Airbus and Italian company Leonardo, ATR said the deal is worth $536 million at list prices, Reuters reported.
The contract with ATR follows deals between Iran Air and plane giants Airbus and Boeing for 180 passenger jets.
It is signed after months of talks that required navigating a way through separate U.S. sanctions and regulations still in place.
Few days ago, the Office of Foreign Assets Control (OFAC) of the U.S. Department of the Treasury issued Boeing and Airbus the required permit for selling their accorded 180 airplanes to Iran.
Transport Minister Abbas Akhoundi announced in mid-January that renovation of the fleet of Iran Air has begun, adding that according to the contracts with world major plane makers, Iran Air is to receive 200 new planes, of which 100 will be purchased from Airbus and 80 from Boeing.
The first, second and third planes that Iran has purchased from the European aviation giant Airbus landed in Tehran on January 12, March 11, and March 25, 2017, respectively.
Parvaresh announced in late March that the country will receive four new Airbus planes in 2017 and five other Airbus jets in 2018.
As recently reported, Boeing will deliver the first 777 airplane to Iran within a month.