By Ali Kushki
Pakistan's speaker in Iran as Sharif takes reins of Saudi-led coalition 
April 22, 2017 - 20:44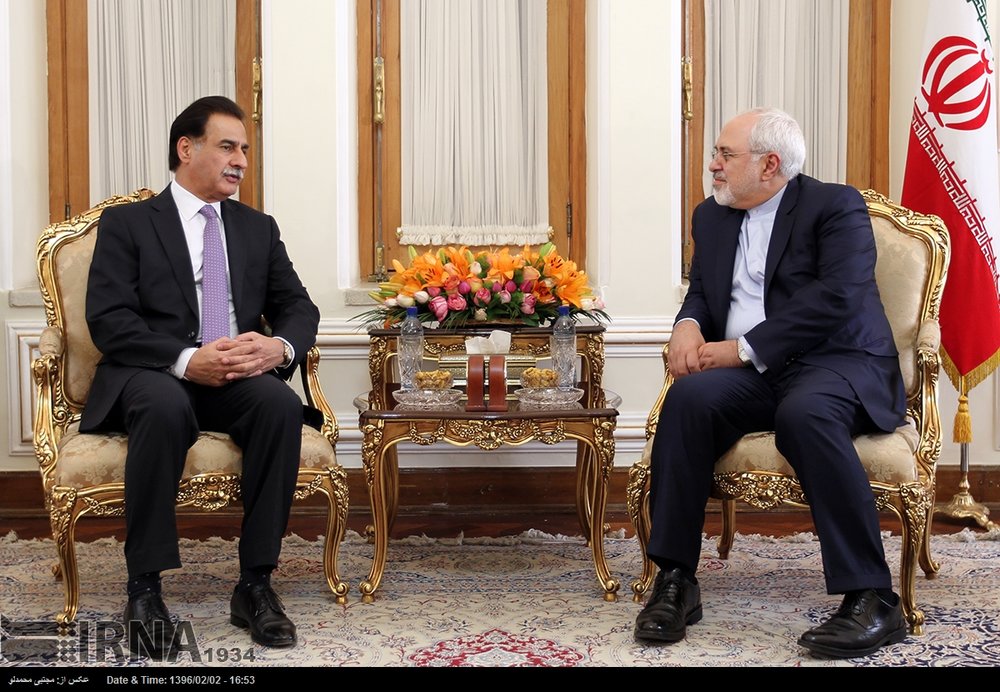 TEHRAN – As the Pakistani Speaker of National Assembly Sardar Ayaz Sadiq arrived in Tehran on Monday for a five-day visit, Islamabad agreed with its former Army Chief General Raheel Sharif to head to Saudi Arabia to command the Saudi-led coalition against Yemen.  
Heading a senior parliamentary delegation, Sadiq is in Iran at the invitation of Iranian Parliament Speaker Ali Larijani who visited Islamabad in November 2014.
Sadiq met with Larijani on Saturday, a running theme of which was the urgency of peace and stability for the region, in which security continues to remain elusive.
"Iran and Pakistan both can be consequential and create stability in the region," Larijani said in a joint press conference after the session, adding, "ways to achieve lasting security in the region were discussed in the meeting."
The speaker of Pakistan's National Assembly, for his part, stressed the importance of taking steps to reinforce unity among Muslims and fight terrorism.
Sadiq further said his country attaches importance to bolstering relations with Iran, adding that the two sides would not allow minor differences to turn into major issues.
In a separate meeting with Iranian Foreign Minister Mohammad Javad Zarif late on the day, Sadiq underscored that that the two Muslim countries hold similar ideas about restoring peace and stability in the region.
Zarif, for his part, expressed Tehran's readiness to shore up bilateral relations in political, economic, security and parliamentary areas, highlighting, "Security of Pakistan is of high importance to Iran."
The high-level meetings come amid Iran's growing concern over Islamabad's decision to send the former army chief to lead the Saudi-led alliance, what is believed to complicate relations between the two neighboring countries.
Reportedly, Sharif flew to Saudi Arabia in a special plane from Lahore with his family members after having received an approval from the General Headquarters (Pakistan Army), according to Defense Minister Kh Asif on Friday.
Iran has voiced strong opposition to the alliance, which it says is used to launch airstrikes against the defenseless Yemeni people.
Attacks by the Saudi-led coalition have claimed the lives of more than 10,000 people and pushed the impoverished country to the brink of famine.
The assignment of Sharif to lead the alliance has sparked controversy both in and outside Pakistan.
Sharif's appointment "is a bit of a departure from Pakistan's more-or-less neutral position on the Iran-Saudi regional war," said Arif Rafiq, a political analyst. "As a result, it's been opposed by even the mainstream, nonsectarian political voices in Pakistan."
Pakistan's Tehreek-e-Insaf party, led by Imran Khan, has strongly opposed the appointment, saying it could widen the Sunni-Shia divide in Pakistan and upset Iran.
"We strongly advocate the policy of impartiality as far as conflicts in the Middle East and Muslim world are concerned," Khan said. "We under no circumstances should fall into any conflict and hence be watchful of the impacts of every decision or choice we make."
Recently, Iranian Ambassador Mehdi Honardoost met Chief of Army Staff General Qamar Bajwa during which the envoy was assured that ties with Iran would remain unaffected.
Allegedly, the meeting took place amid reports that Pakistan was considering the deployment of 5,000 troops in Saudi Arabia.
Addressing the concerns, early April Pakistani Foreign Secretary Tehmina Janjua said Islamabad will remain committed to its policy of non-interference in the conflicts of Muslim countries.
"It is difficult for Pakistan to maintain equal relations with both countries but Pakistan will not go against Iran's interests," she assured a panel of the National Assembly Standing Committee on Foreign Affairs.
Also, Defense Minister Khawaja Asif said Pakistan was ready to talk to Iran to soothe its concerns over the appointment.
"We have decades-old strong ties with that country (Saudi Arabia). But at the same time we are also ready to talk to Iran if they have any reservation over General Raheel's appointment," he was quoted as having said.
AK/PA