Human society needs to embrace diversity, Zarif says
April 25, 2017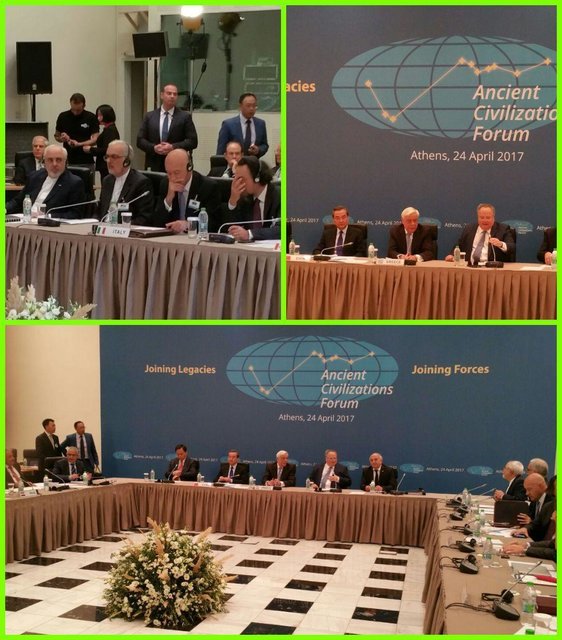 TEHRAN – Iranian Foreign Minister Mohammad Javad Zarif said on Monday that human society is in desperate need of embracing the enriching diversity within and between civilizations.
During his speech at the Ancient Civilizations Forum in Athens, Greece, he said, "The inheritors of ancient civilizations have a historic responsibility to be in the forefront of promoting dialogue and inclusion to usher in a new paradigm of global relations."
Following is an excerpt of his speech published by the Iranian Foreign Ministry's website:
As the inheritors of ancient civilizations, with the necessary depth of understanding and historical reflection to appreciate that triumphs as well as trials and tribulation are but short moments in the millennial historical retrospect, we need to challenge the prevalent paradigm of "might makes right", the paradigm of exclusion, which in its various forms has invariably brought bloodshed and devastation to human society throughout history and has given rise to violence, underdevelopment and extremism. This paradigm has governed the relations among communities and nations for far too long, resulting in wars, atrocities, occupation, oppression, discrimination and displacement. The rampant terrorism and extremism currently faced by countries and regions across the globe, including in West Asia, the cradle of many ancient civilizations, are heinous products of this outdated paradigm.
We need to reflect on the factors that have shaped our past civilizations and have sustained them, as dynamic, living entities. We need to be able to draw general lessons from the past and learn from their ebbs and flows along the historical continuum.
There are formidable common challenges that the human community is currently facing; ranging from the elusive goals of sustainable development, protection of the environment, and eradication of poverty for the larger part of the international community to effective combating of such rather new twin phenomena of extremism and terrorism as universal plagues. The globalized, interconnected nature of the state of affairs across the planet makes it imperative that common problems need common solutions. And as we are witnessing a renewed tendency for the tested – and failed – unilateral approaches, I should underline the need to seek multilateral solutions.