By Ali Kushki 
Tehran, Kabul on fast track to strategic ties 
May 8, 2017 - 21:11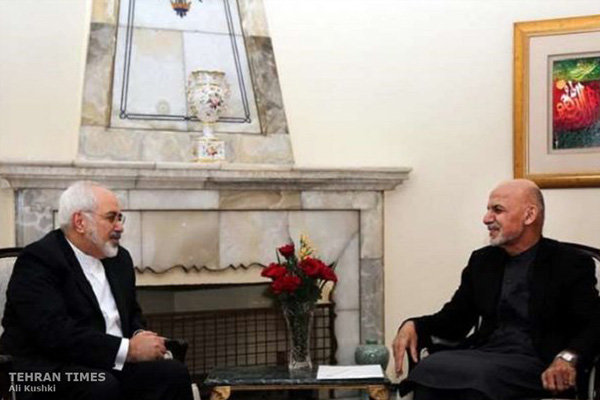 KABUL – Relations between Iran and Afghanistan are expected to undergo major positive shifts as the two are close to drafting a comprehensive roadmap which catapults bilateral ties to previously unseen levels. 
The document, once drafted and implemented, will soothe concerns about a wide spectrum of issues, including environmental challenges which have escalated over the past decade.
Forging a consensus on five components of what Iran's Foreign Minister Mohammad Javad Zarif called "a strategic framework" was the running theme of his talks on Sunday with five senior Afghan officials held over just five hours and a half.
"We had very important discussions during the visit," Zarif told reporters on his way back to Tehran. He said the visit capped months of negotiations to hammer out a "certain framework for strengthening strategic ties between the two countries."
"We have a non-paper agreement on the principles and between three to six months we hope we can reach an agreement", Zarif said in English in answer to a question by the Tehran Times.
The framework will narrow down on five domains. Each of the issues will be addressed and discussed by a committee.
The security committee will focus on terrorism, drug smuggling, and radicalism, according to Zarif. Also, political issues will be looked into by the body, he said.
An economic committee will seek to spur more trade. Stronger economic ties between the two sides can be of critical importance particularly for Afghanistan.
While Iranian companies can offer engineering and technical services to Afghan partners, the "landlocked Afghanistan", Zarif stated, can use Iran's access to high waters as a transit channel.
A third body is tasked with an environmental mission. For years now, the shrinking Hamoun Lake has been a source of concern for Iran.
Located near the country's eastern border with Afghanistan, the area once held Iran's third-largest lake and a thriving ecosystem of interconnected wetlands.
However, low precipitation, prolonged drought periods, and dams on the Afghan side have resulted in population displacement and unemployment in the border area in Iran's Sistan-Baluchestan province.
Events such as the 1973 coup in Afghanistan, Iran's 1979 revolution, the Soviet invasion of Afghanistan in 1979 and the subsequent civil war, and Taliban's rule have all had disastrous impacts on the fate of the Hamoun wetlands, which straddle the Iran-Afghanistan border and are fed by the Helmand or Hirmand (as it is known in Farsi) river.
In addition to Hamoun, Iran's water rights in Hirmand River and Harirud (The Heray Rud River) are to be discussed by the environmental committee, Zarif noted.
A fourth taskforce will explore ways to boost cultural and educational exchanges between Iran and Afghanistan.
"As two nations with religious and language affinities, Iran and Afghanistan can expand cooperation in the areas," Zarif highlighted, saying, "Upwards of 410,000 students and 17,000 Afghan university students are studying in Iran."
The two can have stronger ties in producing education materials and cultural heritage, Zarif exemplified.
In March, the United Nations hailed Iran's generous hosting of millions of violence-stricken asylum seekers and refugees, particularly those from neighboring Afghanistan.
Iran "has been exemplary in hosting refugees and keeping borders open," said Sivanka Dhanapala, head of the United Nations High Commissioner for Refugees office in Tehran.
Iran has been giving refuge to about a million registered Afghan migrants and another two million unregistered ones for almost four decades, according to the estimates.
More than 350,000 Afghan refugee children are now in school in Iran while some 48,000 undocumented Afghan children were allowed last year to enroll for the first time in Iranian public schools, according to the UN data, issued months before Zarif's comments.
The UN official further hailed a 2015 decree by Leader of the Islamic Revolution Ayatollah Seyyed Ali Khamenei, which called on education administrators to allow all Afghan children, documented or not, to attend Iranian schools.
The directive prompted Iranian officials to build 15,000 new classrooms across the country to accommodate refugee children in the country, which, according to UN estimates, has the world's fourth largest refugee population.
Given the background, the fifth committee will look into ways to address the refugee issue in a most appropriate way.
"To achieve this, the two countries need to join forces", Zarif highlighted, hinting at possible measures to deal with it.
"Issuing ID cards for Afghan refugees in Iran, replacing Afghans' passports with new ones, and organizing refugees so that we can prevent waves of illegal Afghan refugees from entering Iran".
The committees will be created in weeks from now, which pave the way for a "package" to deal with opportunities and challenges both, the top diplomat explained.
AK/PA