By Ali Mirchi and Kaveh Madani
Will Iran's next president care enough to put the environment first?
May 17, 2017 - 11:48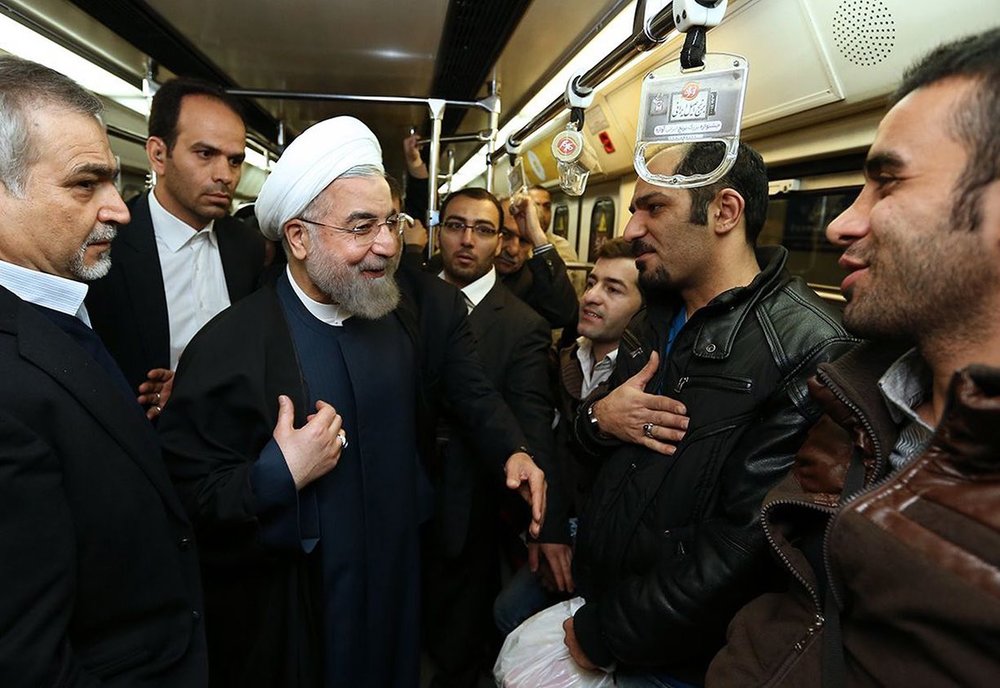 Four years ago one of the candidates in Iran's presidential election made himself popular by promising to save Lake Urmia, one of the world's largest saltwater lakes that was on the cusp of disappearing. Now, President Hassan Rouhani proudly recounts that promise, citing Urmia's current state as an environmental success story made possible by prudent decision-making. Recent intense rainfalls and subsequent floods have come to Rouhani's help, earning Urmia a spot on the catalogue of the accomplishments of his administration.
But this is not the full story.
The Islamic Republic is preparing to hold its twelfth presidential election on 19 May. The outcome will determine the country's handling of critical environmental challenges alongside pressing economic and foreign policy affairs and mounting concern about corruption and racketeering.
Modern-day water and environmental management problems continue to bedevil the nation. Poor air quality and city shutdowns due to recurring massive dust storms are sparking protests in Khuzestan province. The sand and dust mostly originate in neighboring countries like Iraq where political instability limits opportunities to address the issue.
Water shortages, diminishing groundwater and wetlands, thinning forests, and desertification are among other persisting challenges. Remarkably, environmental problems have become a public concern. They are also recognized at the apex of the Islamic Republic's power structure, with calls for a national charter to safeguard the environment based on Articles 50 and 110 of the constitution.
There's now a wide awareness of water problems among those running for the country's top executive job. They blame it, for the most part, on past mismanagement, unbridled resource exploitation, and failure to maintain bodies of water. Candidates are using environmental rhetoric and anticipate receiving questions about the environment, a topic that was rarely discussed during election campaigns just over a decade ago.
The "reformist" candidates tend to bring up environmental issues more in their campaigns, with principlists following suit. The political dynamics demand the question: has the environment finally found its rightful place in presidential debates?
Mostafa Hashemitaba, a former minister of industries and vice-president, a "reformist" candidate, who has said he will vote for Rouhani, has been more environmentally attuned, recognizing water and environmental problems as one of the main challenges of the country. He emphasizes technological development for efficient agricultural production, and strongly believes in the need to promote tourism and better natural resource management.
Rouhani says things are better now than when he took office, and has released a plan that, on paper, places the environment alongside traditionally important strategic issues like economy, security, and defense. His four-year plan specifies policies that aim to improve the situation by pursuing bills such as clean air, soil conservation, environmental assessments and wetland conservation.
However, there are contrasting signals about the depth of understanding of environmental problems. Rouhani and his first vice-president Es'haq Jahangiri boast about self-sufficiency in wheat production without touching on the consequences of this achievement for the country's chronically stressed water resources.
Other candidates including Ebrahim Raisi, the custodian and chairman of Astan Quds and a long-time high-ranking member of Iran's judicial system, Mohammad Bagher Ghalibaf, the mayor of Tehran, and Mostafa Mirsalim, a former minister of culture and Islamic guidance, have taken positive stances about the need to address the environmental challenges and improve the agricultural sector. These moves would benefit farmers, whose votes can swing the game in their favor. They know that the prospect of a higher minimum wage, employment and subsidies are a stronger incentive for disenfranchised populations, and do not hesitate to focus on this token despite the environmental ramifications.
Regardless of who wins the election, the ongoing strain on resources and lack of effective governance will make environmental protection an uphill battle. Lake Urmia is a long way away from lasting recovery, although progress is being made. Likewise, efforts are under way to solve dust problems within Iran's boundaries by restoring the Hoor-al-Azim marsh.
While Iranians have had to pay a high price to learn how poor environmental management can undermine life and the economy, environmental problems are not yet a decisive piece of the puzzle in Iran's presidential campaigns. The candidates' messages weaken when they face the everyday problems of mainstream voters. Perhaps they simply cannot risk losing the support of the undecided voters who will determine the winner of the election.
Ali Mirchi is a research assistant professor of water resources engineering and management at the Department of Civil Engineering and the Center for Environmental Resource Management at the University of Texas at El Paso.
Kaveh Madani, recipient of the Arne Richter award for outstanding young scientists in 2016 and the Walter Huber research prize in 2017, is an environmental management expert and a reader of systems analysis and policy at the Centre for Environmental Policy of Imperial College, London.
(Source: The Guardian)