Iran's policy is to strengthen ties with Qatar, Rouhani says
June 27, 2017 - 20:30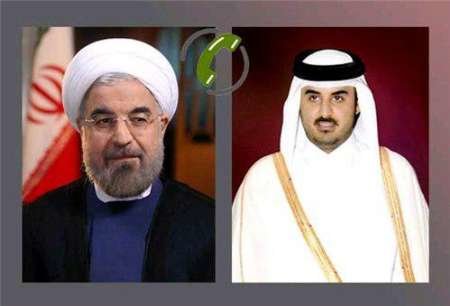 TEHRAN – President Hassan Rouhani has said it is Iran's policy to expand ties with Qatar which been blockaded by some of its fellow neighboring Arab states.
Iran will stand beside the Qatari government and people, Rouhani said in a phone conversation with Qatari Emir Sheikh Tamim bin Hamad al-Thani on Sunday.
On June 5, Saudi Arabia along with the UAE, Bahrain, and Egypt cut ties with Qatar and introduced sanctions on the country for its relations with the Muslim Brotherhood and Hamas.
To stop boycotting Qatar, they have also issued 13 demands including closing Al Jazeera television, curbing relations with Iran, shutting a Turkish military base and paying reparations.
"We believe that exerting pressure and imposing sanctions are not right ways to bridge differences," Rouhani said, describing the siege of Qatar as "unacceptable".
"The airspace, land and sea of our country will always be open to Qatar as a brotherly and neighboring country," Rouhani stated.
Reiterating Tehran's support for "unity" and "integrity" among Muslim nations, Rouhani suggested that Iran and Qatar can help bring Muslims together through cooperation.
He also said that Iran seeks "moderation" and "wisdom" in its relations with the regional countries and is ready to help restoring peace in the region.
For his part, the Qatari leader said, "Qatar has open arms for interaction and cooperation."
"Relations between Iran and Qatar have always been developing and powerful," Aljazeera quoted the emir as saying.
NA/PA