Iranian reelected president and the Qatari emir emphasize stronger ties
Qatar leans toward Iran, further irking UAE, S.Arabia  
May 28, 2017 - 19:48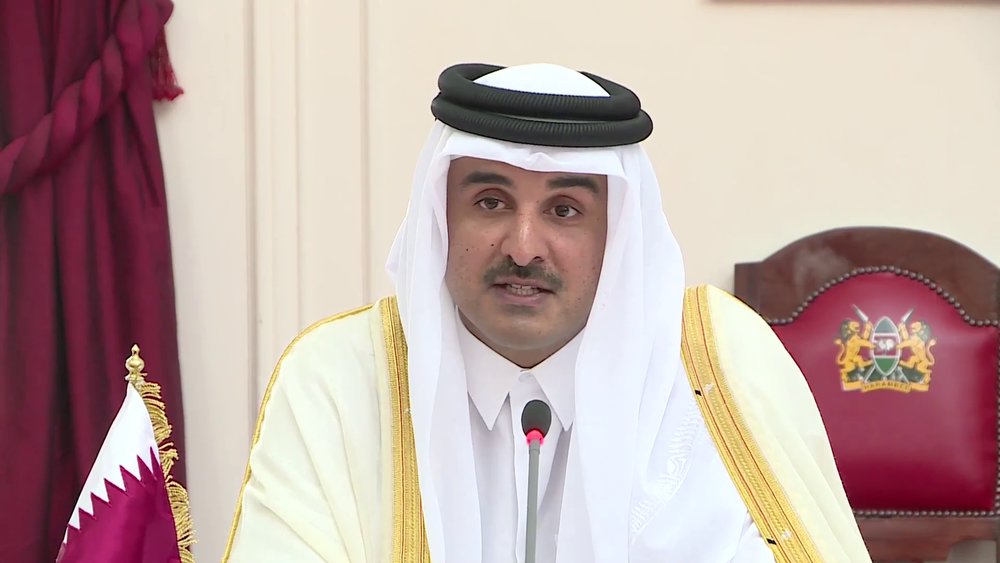 TEHRAN – In a telephone call with Qatari Emir Tamim bin Hamad al-Thani, Iranian reelected President Hassan Rouhani said Tehran and neighboring Arab states can mend strained ties through "strong will", challenging U.S. President Trump's call on the nations to "isolate Iran". 
"One of our foreign policy principles is to continue cooperation with neighboring countries in the Persian Gulf," the state news agency IRNA quoted Rouhani as telling Tamim bin Hamad al-Thani late on Saturday.
"We believe the two sides can remove existing barriers and boost fraternal bonds through strong will."
Rouhani further told the Qatari emir: "The countries of the region need more cooperation and consultations to resolve the crises in the region and we are ready to cooperate in this regard."
In a press conference held two days after his reelection, Rouhani said Iran welcomes better relations with its neighbors, emphasizing that stability could not be achieved in the Middle East without Tehran's help.
Hours after the call, Supreme Leader Ayatollah Seyyed Ali Khamenei lambasted Saudi Arabia for getting closer to the U.S. and killing Yemenis, saying: "Those who commit such measures against Muslims are illegitimate and the illegitimate will certainly face decline and collapse", according to his official website.
Iran and the Persian Gulf Arab states, particularly Saudi Arabia, align with opposing sides in the wars in Syria, and the unrest in Bahrain. Iran is also a vocal critic of the Saudi invasion of Yemen.
Relations came under further strain as Trump, in his speech on Sunday in Riyadh, spoke of a stronger alliance with mostly Sunni Muslim nations to fight terrorism and extremist ideology and to push back against Iran.
Iran says Saudi Arabia is the real financier of Islamist militants and spreads an intolerant creed that fuels terrorism and threatens minorities.
As archrivals, Tehran and Riyadh have had no political relations for more than a year after Riyadh summoned its diplomats from Tehran in the aftermath of attacks on its diplomatic missions in Iran by angry mobs.
The storming came after Riyadh's execution of Sheikh Nimr al-Nimr, an outspoken opponent of the Saudi kingdom.
Already infuriating Saudi Arabia and the United Arab Emirates for reportedly calling Iran a "big power", Qatari Emir Tamim bin Hamad al-Thani called for closer ties with Tehran during the phone call.
Saudi Arabia and the United Arab Emirates took the extraordinary step on Tuesday of blocking the websites of fellow Gulf state Qatar, including al-Jazeera, over incendiary statements about Iran and Israel posted on Qatar's state-run news agency.
Qatar claimed its official websites had been hacked after reports appeared in which the Qatari emir criticized Donald Trump, described Iran as a force for stability in the region and threatened to withdraw ambassadors from a range of Middle Eastern countries including Saudi Arabia.
However, a number of Arab news agencies pointed out that some of the emir's remarks had already appeared on Qatar's state broadcasting before they were disowned, raising questions whether they were genuine, but should not have been reported, according to the Guardian.
The emir was quoted as saying: "Iran represents a regional and Islamic power that cannot be ignored and it is unwise to face up against it … It is a big power in the stabilization of the region."
The development comes just days after Qatar attended a Muslim summit in Riyadh, during which, Trump called for formation of a bloc against Iran.
Rouhani hit back hard by dismissing the summit as a "ceremonial (event) that had no political value and will bear no results".
Before the speech, Trump held individual meetings with leaders of several nations, including Egypt and Qatar.
During his Riyadh visit, Trump also signed an agreement with members of the (Persian) Gulf Cooperation Council, Bahrain, Kuwait, Oman, Qatar, Saudi Arabia, and the United Arab Emirates, on terrorism financing.
Reportedly, the Trump administration is coming under pressure to review its alliance with Qatar in view of its support for Hamas and the Muslim Brotherhood.
Qatar has been at odds with the Arab states over the extent of its support for the Muslim Brotherhood.
Saudi Arabia, the UAE and Bahrain withdrew their ambassadors from Doha in 2014 for eight months after disagreements over Qatar's support for the Muslim Brotherhood.
Kuwait's foreign minister met Qatar's ruler on Friday for talks that appeared aimed at trying to ease renewed tensions between Qatar and fellow Arab states over its policy toward Iran and regional Islamist groups.
Reuters quoted an Arab official as saying that Kuwait's emir had offered during a conversation with Sheikh Tamim to mediate and host talks to ensure the feud does not escalate.
AK/PA