By Mahnaz Abdi
Rail reform plan seeks improved efficiency
July 17, 2017 - 9:8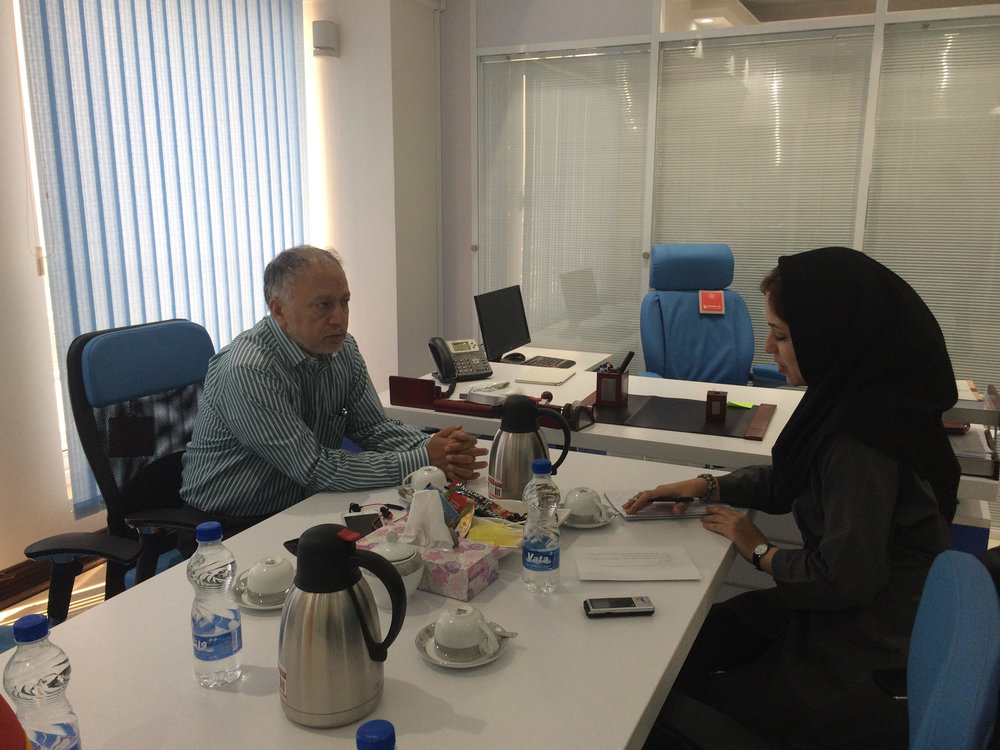 TEHRAN- Railways used to account for the major part of transportation in the world for many years, until decline in demand for railway transportation in the countries throughout the globe set the railways thinking about making some kind of transformation and reform in their structures. Germany, Britain and France were among pioneers in this regard. They embarked on reforms during 1990s.
Since then, many countries have carried out such transformation in their railway structures. Some of them have gone to the second and third transformations, as Germany has passed three rounds of transformation in its railway, in 1994-1996, 1999 and 2006, Britain in 1996, 2006 and 2012-2014 and France in 1997, 2006, and 2015.
The railway sector in Iran, despite its old age (90 years) has not experienced such transformation, but it is strongly in need of it.
Such need brought officials in the Islamic Republic of Iran Railways (known as RAI) to the idea of implementing an organizational transformation in the railway structure. They started measures to implement this plan two years ago; it is mainly based on benefitting from the experiences of other countries.
To this end, RAI has signed two memorandums of understanding (MOUs) with foreign companies, one with France's Roland Berger (RB) six months ago and the other one with Germany's DBI in February 2016.
To get a comprehensive view of Iran's current railway condition which makes implementation of this plan necessary, the Tehran Times conducted an exclusive interview with Seyed Hassan Mousavinejad, the previous managing director of Raja Passenger Trains Company (an associate of RAI), and the current person in charge of change management (CM) in Islamic Republic of Iran Railways Organizational Transformation. His viewpoints come as follows.
Future belongs to railway transportation
Future belongs to railway transportation due to a number of factors. The followings are two of them.
One factor is speed. In our country, for example, it's a long time that speed has remained unchanged, something around 120-140 kilometers per hour in road transportation. It is because of safety issues. But there is not such limitation in rail transportation, as many big high-speed train projects are underway throughout the globe.
There is another factor when compared to air transportation. It is air pollution, because air transportation consumes huge amount of fuel which creates huge pollution as well. And 50 percent of the cost goes to the fuel.
It is why rail transportation is a priority in the world's cities; urban development is being planned for rail-based cities and in establishment of new cities transportation priority is attached to railway.
Railway share low in Iran's transportation
Iran is among the 30 countries in the world where railway is older than 90 years. But, the share of railway both in cargo and passenger transportation is very low in the country, as 12-13 percent of public transportation is via railway, and when transportation by private cars is concluded the figure is less than three percent. And about cargo, rail transportation accounts for 25 percent of the cargos that can be transported via railway and the figure is 2.5-3 percent of the total cargo transportation in the country, which could rise to 30 percent.
Near 80 percent of cargos is transported by containers in the world. Iran's share of cargo transportation by container is 40 percent, of which just three percent is via railway because of lacking container wagons in the fleet. The figure could be increased to 10 percent.
Railway development a privilege

Considering our country's geographical condition, rail transportation has privilege for us.
And it should be paid attention both in passenger and cargo sectors. Most of the railway projects are long-term, the average implementation duration is over five years in the world and it is more than 10 years in Iran; therefore we should have macro plans for these projects.
Transportation account for a big part of air pollution in the country, especially in mega cities with Tehran on top of them and development of railway could play a significant role in reducing air pollution.
It also plays role in safety. Development of railway could reduce road casualties, which are high in Iran, by one third in the country.
Near 50 railway projects underway
We have near 50 railway projects underway in the country and all those centers of provinces which are not still connected to the railway network are planned to be joined.
About our rail connection to the regional countries, we are currently connected to Turkey, Turkmenistan and Pakistan. The railways to Afghanistan and also to Azerbaijan are being built. We were connected to Armenia in the past and negotiations are underway to be reconnected. And two rail tracks from different paths are being built to Iraq.
Qazvin-Rasht railway is a significant project to be completed in the current Iranian calendar year (to end on March 20, 2018), and Mianeh-Tabriz, Hamedan-Sanandaj, Khorramshahr-Basra, Chabahar-Zahedan are some other important projects underway.
All these require very high investment and if we want to use governmental budget it will take a long time; therefore attraction of foreign investment is of high significance in this due. It is hoped that the condition created after implementation of the Joint Comprehensive Plan of Action (JCPOA) - in January 2016- paves the way for attraction of foreign investment.
And it has more priority in developing the fleet.
Foreign finance for implementing projects
Two big railway projects are currently underway in the country through foreign finances. One is signaling Tehran-Mashhad railway by Chinese finance and the other one is establishing the high speed train of Tehran-Qom-Isfahan by German and French finances.
We have also two MOUs with foreigners. One with Italy on Qom-Arak high speed train and the other one with Russia on signaling and increasing the speed of Garmsar-Incheh Boroun railway.
Factors making organizational transformation necessary
The main factor that makes implementation of organizational transformation necessary is that railway is continuously losing its share of cargo and passenger transportation in the country.
Meanwhile, the whole railway transportation is not considered an economic industry at the present, many railway sectors are loss making and economic reforms should be done in them both in infrastructure and boosting efficiency.
We require revising laws, regulations and bylaws of rail transportation and defining new ones that include entrance of private sector and foreign investment.
Barriers to transformation plan
The first obstacle in the way of conducting transformation plan is resistance to changes which is normal whenever a reform is to happen, especially in the old systems. People should be justified that this plan will bring fruitful results.
Changing laws and regulations is the other obstacle and we hope that new laws and regulations will be set during the proper time.
Also, reforming the structure needs new investment that we hope the government will allocate more funds to this issue.
High determination for changes
There is serious will for implementation of this plan in Iran as Supreme Leader Ayatollah Seyed Ali Khamenei emphasizes the importance of railway development. Also President Hassan Rouhani has several times mentioned that his administration will bring big achievements in three sectors of health, IT, and railway. Transport Minister Abbas Akhoundi has special focus on railway development as well.