Bojnourd gears up to host handicrafts trade fair
August 8, 2017 - 8:42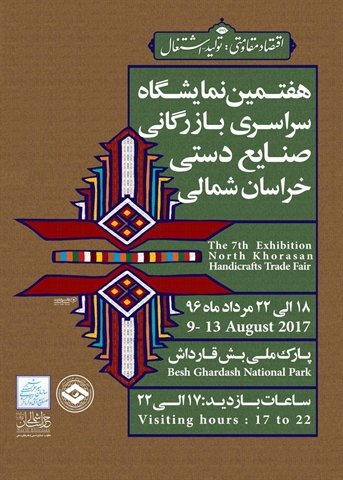 TEHRAN – The northeastern city of Bojnourd, North Khorasan province, will play host to a national handicrafts exhibit which will open its doors to the public on Wednesday.
Organized by North Khorasan Province's Cultural Heritage, Tourism and Handicrafts Department, the five-day event will be held at Bojnourd's Besh Ghardash National Park, CHTN reported on Monday.
The exhibit will touch upon traditional jewelry, local garments, ceramics, potteries, woodwork, illuminated manuscript, enamel, leatherwork, handwoven products, metalwork, and marquetry, amongst other works.
Countrywide artisans and craftspeople have been invited to participate in the trade fair that encompasses a total of 120 stalls, CHTN quoted Ali Abedi, the deputy director of the department, as saying.
Over the past couple of years, dozens of high-quality Iranian handicrafts have been honored with the UNESCO Seal of Excellence.
PHOTO: A poster for the 7th North Khorasan Handicrafts Trade Fair
AFM/MG