By Mahnaz Abdi
Iranian economy needs local investors supersede foreigners: Fraser's founder
September 4, 2017 - 19:50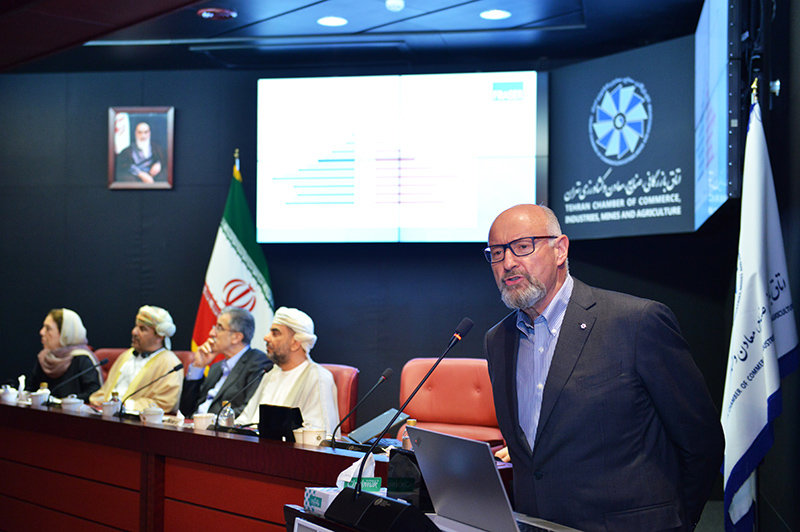 Professor Michael Walker, the founder of Fraser Institute, believes that Iran should attach priority to motivate its citizens to invest in the country rather than attracting foreigners to do so.
Fraser Institute is a Canadian think tank which is the publisher of Economic Freedom of the World annual survey that attempts to measure the degree of economic freedom in the world's nations. Index of Economic Freedom measures economic freedom based on trade freedom, business freedom, investment freedom, and property rights.
Addressing a meeting held by Tehran Chamber of Commerce, Industries, Mines and Agriculture (TCCIMA) in Tehran on Monday on the issue of economic freedom in Iran, the Canadian professor said: "I often say to them [Iranians] why you are concerned about foreigners' investment in the country and not the citizens investing in the country."
"You should first of all be concerned for getting investment from Iranians here in the country. As important as it is to attract investment from outside your country, even more important is to keep people in your country", he added.
'It's up to you to keep Iranian partners here'
Walker, who is from West Vancouver, said that there are 500,000 Iranians living there.
He referred to the proper business environment existing where he is living that have attracted some best business people from Europe and very best ones from Iran and said: "I am proud of that, but it's up to you to keep your environment attractive to keep your good partners in Iran."
Elsewhere in his remarks, the Canadian economist referred to Iran's economic freedom index and said Iran is ranked 150th out of 156 countries in the world.
He said some people would say it's because of the sanctions; while he denied it and said sanctions do not have anything to do with the bad policies for example in the country's labor and also investment sectors.
"These are things that you are going to have to deal with", he asserted.

'Do things with least amount of opposition first'
In an exclusive interview with the Tehran Times on the sidelines of the meeting, the Canadian professor said for promotion of Iran's economic freedom the measures with the least amount of opposition should be taken first.
He said: "We have got 42 different indicators [for measuring economic freedom]. In any movement in any of those, whether its tax rate or tariffs or regulations against employment or regulations against business to higher level of government involvement in the ownership of the enterprises, all of these things are important and as we've seen when we look at the other countries in the world who prospered it's by getting all of those things right that you really get the maximum level of economic development."
"And so for me to pick any one of those, you have I think in your package got the least of all of those indicators and it's really you should do the things that can be done right away", he stated.
"The things that can be done fastest and can be done with the least amount of opposition, do them. And then work on the thing that are going to be more difficult like be more privatizing government enterprises and getting the government out of business and getting the government out of the exchange market and those things are going to be difficult. So do the easy thing first", the professor concluded.

MA/MG