Rehabilitation work restarts at Takht-e Soleyman
September 9, 2017 - 10:14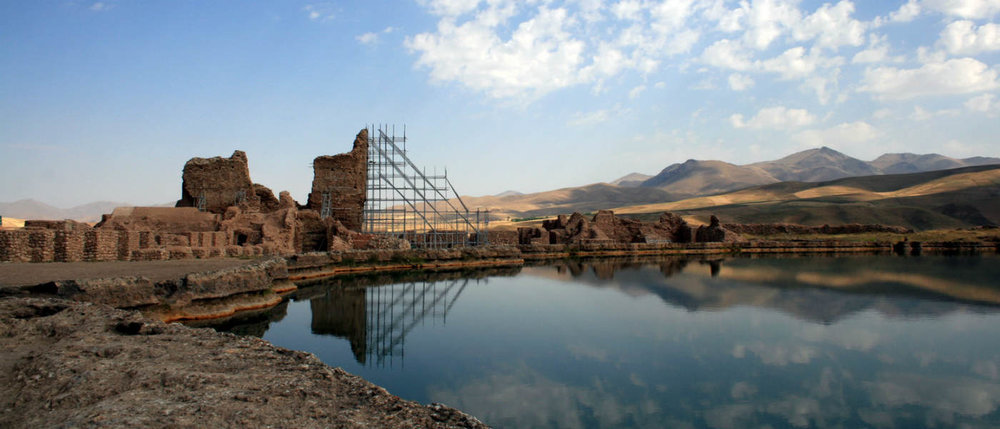 TEHRAN – A new round of restoration works on the UNESCO-registered Takht-e Soleyman ("Solomon's Throne") in northwest Iran has recently been commenced by a team of Iranian and German experts.
"The new season for refurbishing and buttressing the archeological ruins of Takht-e Soleyman has been started in close collaboration with experts from Germany's Dresden University of Technology," manager of the ancient site told IRNA on Tuesday.
"The site is being rehabilitated continuously and annually, with a total budget of 16 billion rials (about $420,000) allocated for the current [Iranian calendar] year (started on March 21)," Mohammad Fat'hi added.
Under a memorandum of understating, the Dresden University experts will participate in various conservation projects across the massive site until 2021, Fat'hi said, adding the current season is expected to end by the next two months.
Situated in the southeastern highlands of West Azarbaijan province, Takht-e Soleyman encompasses a lake roughly 80 by 120 meters and a Sassanid-era Zoroastrian temple complex dedicated to Anahita, an ancient goddess of fertility, parts of which were rebuilt in the 13th century during the Ilkhanid era.
The ensemble was established in a geologically anomalous location as the base of the temple complex sits on an oval mound roughly 350 by 550 meters. It draws local and foreign travelers who want even for minuets revel in its peaceful atmosphere.
According to Britannica Encyclopedia, its surrounding landscape was probably first inhabited sometime in the 1st millennium BC. Some construction on the mound itself dates from the early Achaemenian dynasty (559–330 BC), and there are traces of settlement activity from the Parthian period.
PHOTO: Scaffolding poles support portions of Takht-e Soleyman, a UNESCO-registered historical site in northwest Iran.
AFM/MG