By Maryam Qarehgozlou
'Public are not environmentally conscious or they wouldn't harm it'
September 23, 2017 - 8:49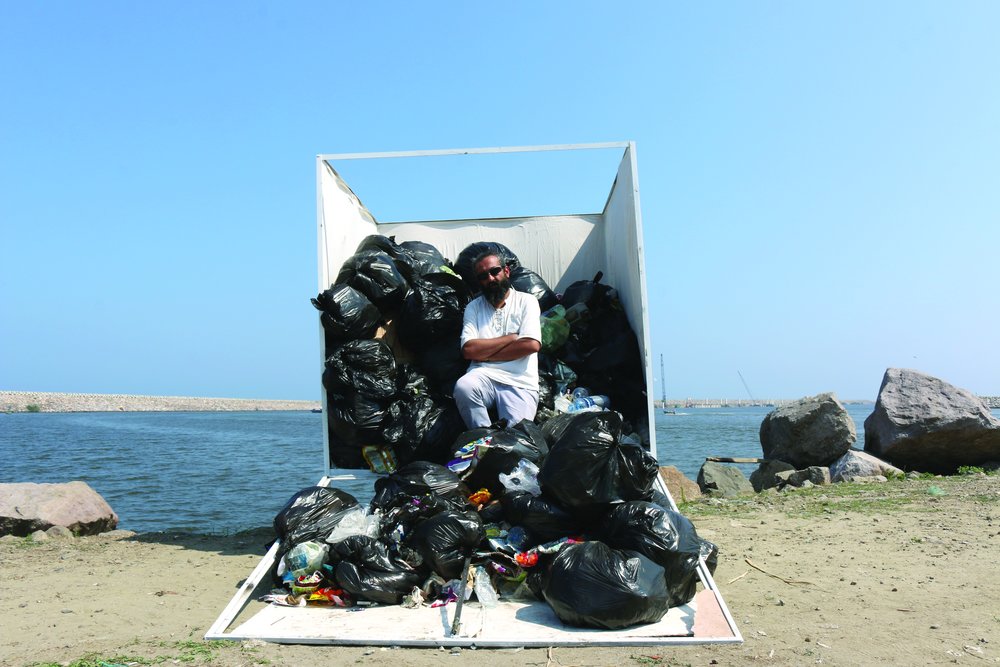 TEHRAN — Imagine you are sitting in a sunlit nice area while having lunch but wherever you look there are piles of trash strewed around.
This is not very uncommon, many of the main attractions are now filled with garbage left by people who were having a day off and trying to relax in the nature.
Anzali Lagoon, called Mordab-e Anzali in Persian, is a coastal lagoon, in the Caspian Sea near Bandar-e Anzali, a harbor town, in the northern Iranian province of Gilan.

One of the tourist attractions in the area is the breakwater built at the lagoon. Once you walk along the breakwater you find yourself surrounded by water. However there are no trash cans across the breakwater; instead pile of litter is strewn all over the place.
On September 16, a group of environment lovers gathered together to clean up the breakwater. They were told to throw the trash they collect into a huge white trash can placed at the furthermost edge of the breakwater.
The cleaning up process was hard and time consuming regarding the hot and humid weather but the crowd finally managed to clean up the area from the trash. After finishing up the job, while they were taking pictures and having fun all of a sudden someone jumped out of the big white trash can.
To everyone's surprise Masoud Nikdel, an Iranian artist and environmentalist, walked out of the trash can. They crowd realized that they were throwing their trash at Nikdel who was sitting in the can under pile of garbage.
An artists with environmental concerns
Nikdel, 37, is a designer, sculptor, and lecturer who lives in the city of Mashhad, northeastern Khorasan Razavi province.
Nikdel's name is synonymous with performances addressing detrimental effects of human interferences with the environment. He is an innovative artist with environmental concerns. He is tirelessly trying to make people aware of the environmental damages they are causing either intentionally or unintentionally through his radical performances.
The "crisis experience" is one of his most remembered performances in 2015. In an attempt to show his concerns over water crisis, sympathize with the Earth and caution the public against what is happening to it Nikdel covered himself in mud and sat motionless on the stairways of Milad Tower, Tehran, for three straight hours.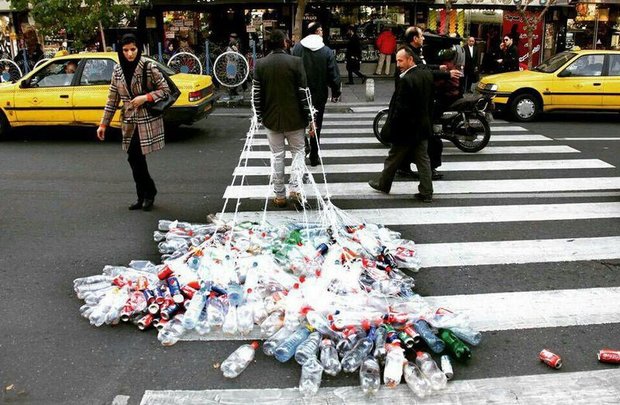 He put out another performance called "out of sight but alongside" in January 2016. He tied some trash, mostly empty bottles, to himself using ropes and dragged them while walking on the streets of the capital intending to warn people how the trash we produce does not vanish off the face of the earth but merely hides in the landfill and finally drags down our poor and helpless environment.
In another performance he gave in the same year called "my city is my clothes" while walking in the streets he gradually filled his white clothes, covered with a plastic layer, with cigarette butts thrown away on the street to convey a message to the people: "What I'm wearing is a part of my city. My city is my clothes."
"We don't give much information about the environment to the public and the children and we expect them to do the right thing, this is a big mistake," he lamented.
"Not brutal, but foolish"
His latest performance, what he himself calls "not brutal, but foolish", was staged at breakwater in Anzali lagoon. He said that the performance was intended to make people aware of the adverse effects of throwing out trash in the environment.
"Where you throw away your trash could a habitat for species, you may not know that they exist but you invade their lives," Nikdel said.
He tried to shock people who were throwing trash at him unknowingly to make them more environmentally conscious.
In his description of his performance he said that: 'I was living in my own peaceful world, but I don't know when and where the smelly unpleasant trash came from and drag me into annihilation, they didn't know I existed."
Public do not know about the environment
"Do we really know what happens when we dump our trash? Where do they end up? What do they do to the Earth? And how do they throw Earth out of balance?" Nikdel wonders.
"Why the public are not aware of it? When someone doesn't know about something they cannot be held accountable for it," he highlighted.
Nikdel went on to explain that "I don't blame people who were throwing trash at me, they didn't know I were there, if they knew I were there or even a cat were inside the big white trash can, would they still throw their trash at it, of course not; and this was my purpose of the performance."
"We don't give much information about the environment to the public and the children and we expect them to do the right thing, this is a big mistake," he lamented.
MQ/MG