By: Haniyeh Sadat Jafariyeh
Europe-Iran Forum's message to Trump
October 5, 2017 - 14:59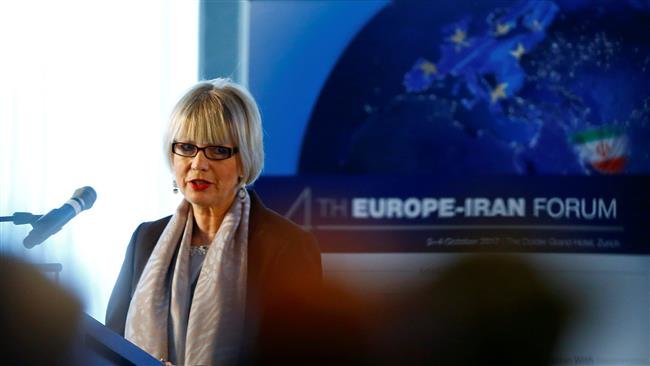 The 4th Europe-Iran Forum (EIF) was held amid U.S. President Donald Trump claiming that he may decertify in October the landmark nuclear deal between Iran and world powers under the pretext that the Islamic Republic has not been abiding by its commitments.
Focusing on post-sanction investment and trade with Iran the forum was held on Tuesday and Wednesday in Zurich, Switzerland.
As a matter of fact, holding the event can be translated as Europe's total disagreement with the picture that Trump tends to show to the world of Iran.
Since taking office, Trump has repeatedly called Iran "noncompliant" to the deal and announced that his own desire is to kill it. But top European officials unanimously believe in the nuclear deal, formally known as the Joint Comprehensive Plan of Action (JCPOA), as a major political achievement and an excellent example of successful multilateral diplomacy.
In fact, the International Atomic Energy Agency (IAEA) has certified the deal saying Iran has been adhering to the agreement and European Union countries have frequently indicated their continued support for the deal.
Europeans, in addition, underline that the U.S. cannot blow it up on behalf of other signatories. "This is not a bilateral agreement, it's a multilateral agreement. As Europeans, we will do everything to make sure it stays," Helga Schmid, the secretary general of the European External Action Service (EEAS) said addressing EIF on Wednesday.
"This agreement does not belong to a single country. Therefore, it cannot be changed unilaterally." "At the European Union we support economic cooperation between Iran and Europe - at the political level and at the policy level," she added.
Europeans are satisfied with the chance they have found to broaden economic bonds with Iran and the new business chapter opened up after the removal of sanctions, although there are some barriers, in particular banking ones, on their way to reach their target.

"We welcome Iran's efforts to address the issue of anti-money laundering… It is critical to adjust to current international banking standards and comply with the international regulatory standards in the field of financial services. We encourage Iran to continue these efforts and stand ready to provide support where we can (as we have done already in the framework of the Financial Action Task Force/ FATF)," Schmid said during her speech.
Trade between Iran and Europe increased by 94 percent to €10 billion in the first half of 2017 from the same time in 2016, according to Masoud Khansari, chairman of Tehran Chamber of Commerce, Industries, Mines and Agriculture, who also addressed the forum.
This means that Iran and Europe have greatly improved ties in the post-sanction era and plan for further cooperation despite Trump's discontent.

HJ/MG