Iranian, Russian military chiefs meet in Tehran
November 1, 2017 - 20:40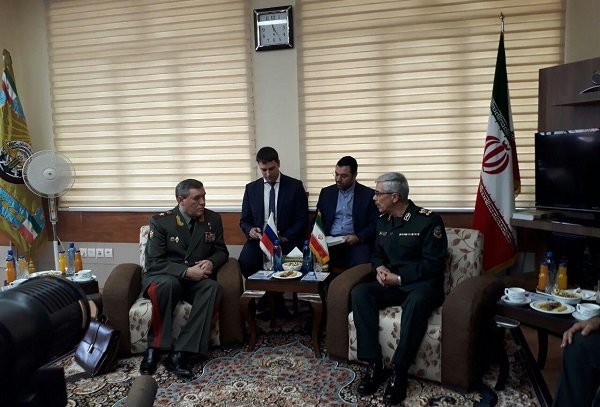 TEHRAN – Major General Mohammad Baqeri, chief of the Iranian armed forces, met with his Russian counterpart Valery Gerasimov on Wednesday to exchange views on various issues including the latest developments regarding the Syrian conflict and the war on terrorism.
The two generals met in Tehran as part of efforts for expansion of military cooperation between the two countries.
During the meeting, Baqeri hailed the growing cooperation between the two counties' armed forces over the last two years, pointing to the opportunities for further expansion of such cooperation.
He also expressed the hope to have a meeting with his Russian counterpart in Moscow in the near future.
The Russian commander, for his part, voiced satisfaction over the current level of defense and military cooperation between Iran and Russia.
"During my stay in Tehran, I would like to discuss the current situation in Syria, as well as the areas for further military and technical cooperation between Iran and Russia," Gerasimov said.
The two sides also discussed a new defense diplomacy between Iran and Russia and conferred on ways to combat terrorism.
The meeting came hours before a Tehran-hosted summit between presidents of Iran, Russia and Azerbaijan to discuss trilateral and regional issues, including the Syrian crisis.
MH/PA