Iranian, Turkish military chiefs dismiss independence referendum in Iraqi Kurdistan
October 2, 2017 - 14:12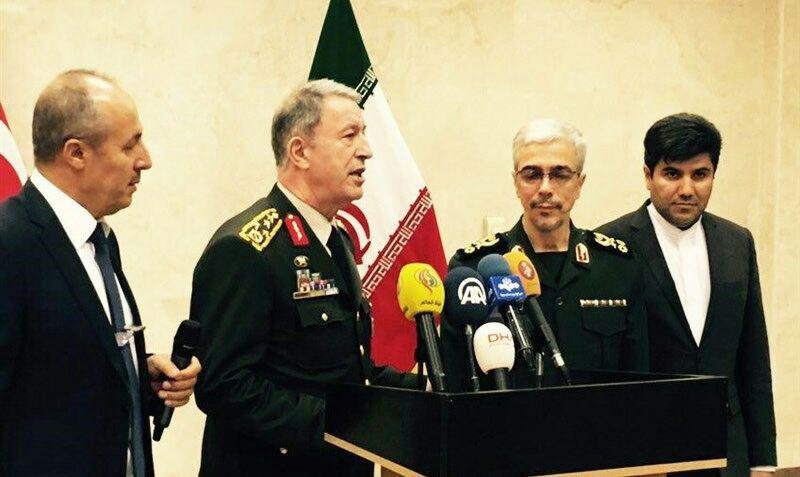 TEHRAN – The top military commanders of Iran and Turkey on Saturday unanimously voiced strong opposition to the independence referendum in the Iraqi Kurdistan, saying it is "unacceptable"
The renewed opposition to the September 25 independence referendum was made after a meeting in Tehran between Iranian Armed Forces Chief of Staff Mohammad Baqeri and his Turkish counterpart General Hulusi Akar.
Speaking at a joint press conference, the two top generals also said military cooperation between Iran and Turkey will increase.
"In addition to political and economic cooperation between Iran and Turkey, we try to develop military cooperation, especially in the campaign against terrorism," General Akar remarked. "We also reached mutual agreement on securing the two countries' borders."
The senior Turkish military commander added, "For development of military cooperation our efforts will continue."
General Baqeri also expressed hope that the visit to Tehran by the Turkish military chief would help strengthen "security cooperation" between the two neighboring countries.
Bagheri added Iran and Turkey are "unanimous" in their stance to protect the Iraqi territorial integrity and consider the referendum in the Iraqi Kurdistan as "unacceptable".
Shamkhani calls Iraqi Kurdistan referendum 'irresponsible and thoughtless'
The approach of the Iraqi Kurdish officials in holding independence referendum was "irresponsible" and "thoughtless", Ali Shamkhani, secretary of Iran's Supreme National Security Council, said in a meeting with the Turkish armed forces chief of staff.
Shamkhani said the move will cause distraction in fight against Takfiri terrorism in Iraq.
'Proper decision to secure common borders'
General Bageri also said he and General Akar held talks on the victories of the Syrian and Iraqi armies over ISIL and "we hope to help the two countries to achieve security."
"We also held negotiations on fight against terrorism in the region and providing security in the borders of the two countries, and proper decisions were taken."
He added the armed forces from the two countries will also collaborate in areas of military training, participating in each country's war games, and exchanging information on border security.
General Akar who arrived in Tehran late on Sunday said, "Iran and Turkey can destroy terrorism".
Akar's visit to Tehran followed a similar visit by Baqeri to Ankara on August 16-17. While in Ankara, Turkish and Iranian military leaders held talks over cooperation in the Syrian conflict and counter-terrorism.
Turkey, Iran and Russia agreed in May to set up "de-escalation zones" in Syria to try to stem the fighting in some parts of the country, including the northern province of Idlib, which borders Turkey.
The reciprocal visits by the military chiefs are the first of their kinds between Iran and Turkey, a NATO member, since the victory of the Islamic Revolution in Iran in 1979.
PA/PA