Ali Sadr Cave: Stepping into Jurassic era!
November 23, 2017 - 9:7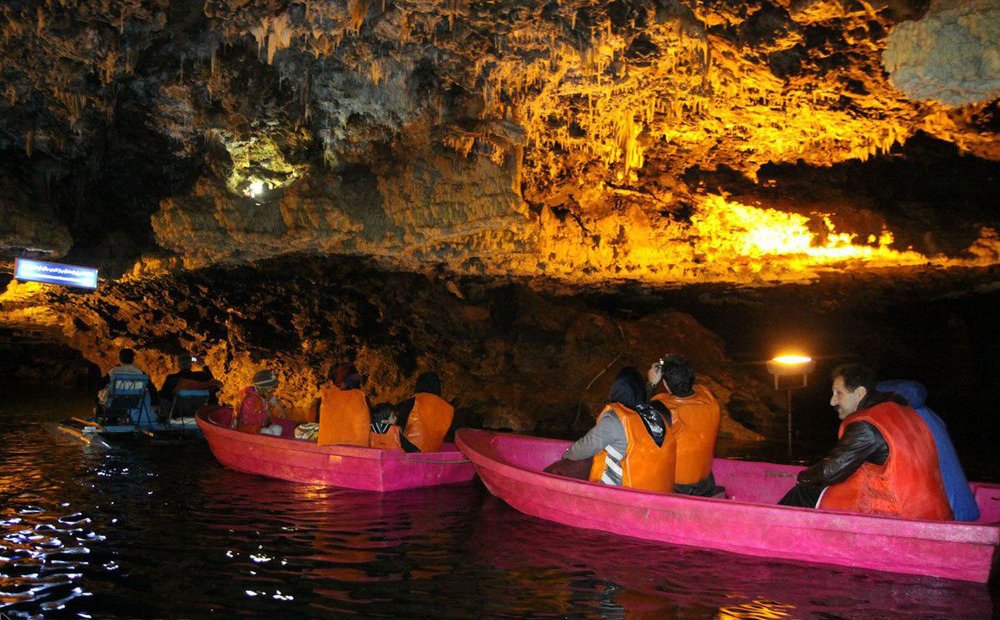 TEHRAN – Each day tens of domestic and foreign sightseers set foot in Ali Sadr Cave, a gigantic water-filled cavern wieldy believed to date from Jurassic era.
Entrance to the lengthy cave is situated some 70km north of Hamadan in west central Iran, itself a hotspot for avid history buffs, day trippers and holidaymakers.
Ali Sadr embraces a huge matrix of sunless channels, ponds, grottoes and water passages which are stretched along with imposing rock formations and stalactite-covered tops in a span of several kilometers.
Sightseeing there is connected with traversing in well-lit labyrinths of water ways via paddle boats, walking on subterranean islets, as well as observing rock carvings of hunting scenes, artifacts, paintings and vessels which are associated with prehistorical troglodytes.
Some tour operators and tourism marketers say that a standard tour proceeds visitors some 2,000 meters inside the cave, over 1,400 of which is covered by boats that makes it one of the longest underground boat trips in the world.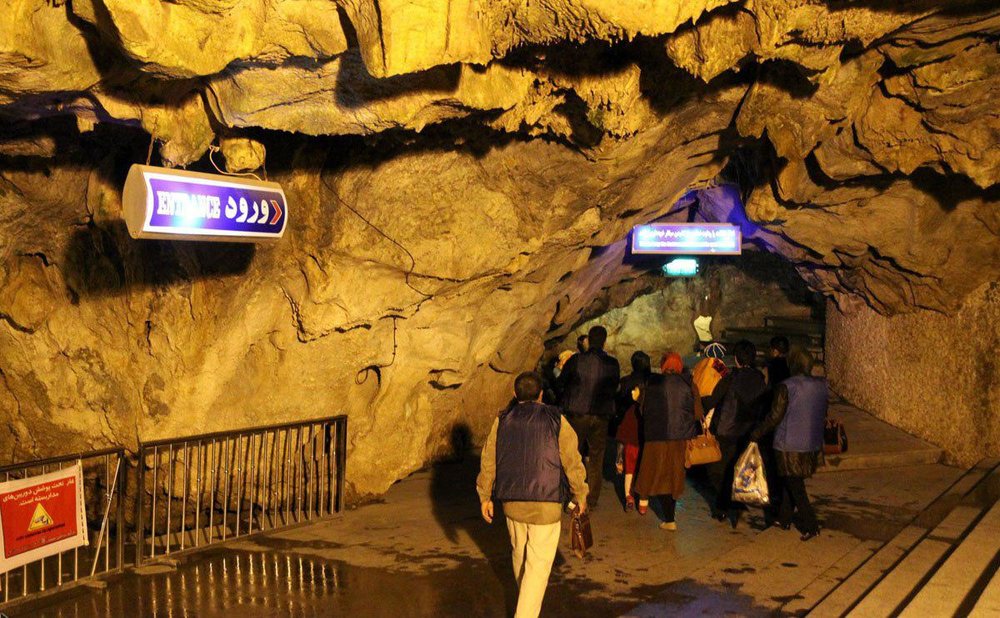 Ali Sadr can be reached after some one hour of riding from Hamadan through the countryside. There are usually shuttles and taxis as well.
The most recommended time to pay a visit is early in the morning, particularly on Fridays or holidays when it's likely to be more crowded.
Iran is geologically a part of the Alpine-Himalayan organic belt. The country features a variety of mountain ranges and hundreds of caves with Ali Sadr, Karaftu, Kataleh Khor, and Quri Qaleh amongst the most notables.
Under tourists' eyes
Here is a select of comments that visitors to the cave have posted to TripAdvisor, one of the most popular travel websites in the world:
"Something different! Just outside Hamadan"
As you approach the site, your heart will sink. There is a mini fairground for kids, shops and stalls selling pretty much anything an Iranian would want - centered towards Iranian tourists rather than Western tourists…
There are signs in English as you make your way through the caves. There is a guide with you and he made a point of translating things into English for us. After 15 mins or so you get off the boat train and walk along a route for about 1km - amazing lighting and rock formations. You then get another boat train back. Whole thing took about two hours but worth it! (Rdella from Princes Risborough, the UK; reviewed May 2017)
"Sailing the underworld"
This cave is very different from the many caves I have seen. To experience it from a small boat, drawn by the Pedalo of the guide is much easier than the climbing on foot in other caves and gives the trip something magic.
And although there are some huge domes very often you pass through very narrow passages. The beautiful experience is only ruined sometimes by very dramatic and too colorful lighting. It has nothing romantic to see the colors of the Iranian flag on a wall with stalactites! Makes impressing nature just Disneyland! Less is more! (Gottfried Z. from Bremen, Germany; reviewed May 2017)
"Great site, needs facility updates"
The cave trip is awesome and takes a couple hours which includes both a guided boat portion and a walking portion. During the walking portion, we were lucky enough to talk with one of the guides…
The cost for Iranians is 35,000 Toman for the longer tour. Unfortunately, they charge $25USD or 70,000 Toman for foreigners. I don't understand this practice at all. (Travel A., California, the U.S.; reviewed October 2016)
AFM/MG