Cold spell, flooding hit Iranian provinces
November 25, 2017 - 8:53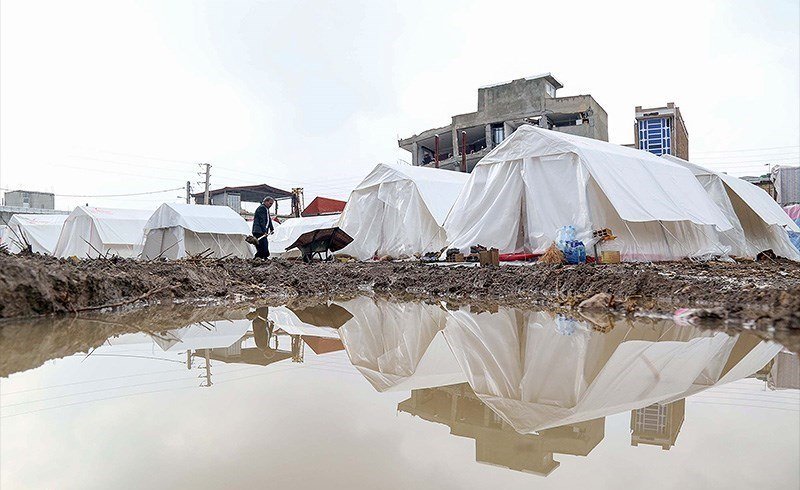 TEHRAN — Over the first days of the ninth Iranian calendar month of Azar (starting November 22) some parts of the country have experienced a sharp drop in temperature and were inundated with flood.
Variations in temperature, particularly in western half of the country, would lead to snowfall over the next few days, weatherman Mohammad Asghari said, IRIB reported on Friday.
The cold wave which will hit northwestern provinces of Ardebil, West Azarbaijan, and Kordestan will be accompanied with snow, Asghari added.
As Asghari has said the temperature will plummet to well below minus 10 centigrade degrees in earthquake-hit areas of Kermanshah province.
The sub-zero, freezing temperature would put the survivors of the deadly magnitude 7.3 earthquake to major inconvenience as a vast crowd of the temblor victims are now living in tents and lack proper heating systems.
Three killed by flood, lightening
Moreover, in another report Morteza Salimi, director of the Relief and Rescue Organization of the Iranian Red Crescent Society, announced on Friday that that some seven provinces of Ilam, Bushehr, Chaharmahal and Bakhtiari, Khuzestan, Fars, Golestan and Hormozgan are stricken with flood over the past three days.
Following the flood two, including a 14-year-old and a 42-year-old victims, have lost their lives in Bushehr, Salimi regretted, adding, another victim aging 65 was also hit by lightning and passed away in Khuzestan.
Abnormally warm month
The Iranian calendar month of Aban (the second month of autumn falling on October 23-November 21) was abnormally warm nationwide, director for drought and crisis management department of Iran's Meteorological Organization said, ISNA reported on Thursday.
"We had a very warm month of Aban nationwide and without exception, all provinces of Iran experienced a-warmer-than-usual Aban," Fateh stated.
He went on to say that regarding the country's annual mean long-term temperature of the month of Aban this year 1.8-degree rise in temperature was reported.
As Fateh have said with a mean temperature rise of 3.3 provinces of Alborz, Qazvin, Zanjan and Tehran set the records high for the warmest weather in the Iranian calendar month of Aban.
MQ/MG